Tencent
Chinese internet conglomerate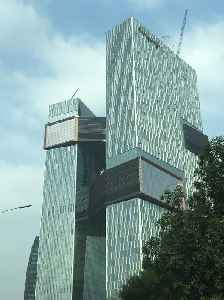 Tencent Holdings Ltd, also known as Tencent, is a Chinese multinational technology conglomerate holding company. Founded in 1998, its subsidiaries globally market various Internet-related services and products, including in entertainment, artificial intelligence, and other technology. Its twin-skyscraper headquarters, Tencent Seafront Towers are based in the Nanshan District of Shenzhen.


Tencent profit up on strong games demand

Chinese gaming and social media giant Tencent Holdings Ltd said second-quarter net profit rose 37%, beating market estimates, on higher demand for its video games as coronavirus put a dent in other..
Credit: Reuters Studio Duration: 01:20
Published
US Stocks Close Mixed

Reuters US equities closed mixed on Friday as traders weighed escalating US-China tensions against rosy labor-market data. President Donald Trump issued executive orders Thursday afternoon targeting..
Credit: Wochit News Duration: 00:33
Published
Trump orders bans on China's TikTok, WeChat

U.S. President Donald Trump on Thursday unveiled sweeping bans on Chinese-owned apps TikTok and WeChat in a major escalation of tensions with Beijing. Gloria Tso reports.N
Credit: Reuters - Politics Duration: 02:06
Published
World stocks end four-day winning streak

World stocks ended four days of gains on Friday after U.S. President Donald Trump cranked up simmering tensions with China by banning U.S. transactions with two popular Chinese apps, Tencent's WeChat..
Credit: Reuters Studio Duration: 01:25
Published
You Might Like



Trump administration reportedly questions Epic Games and Riot about Tencent ties

Photo by Vjeran Pavic / The Verge The Trump administration is apparently investigating the data collection policies of American companies linked to Tencent, following sanctions on Tencent app WeChat..




The Verge - Published





PUBG Mobile videogame maker Tencent to engage with Indian authorities to ensure availability of apps

The Indian government banned PUBG citing a threat to India's sovereignty and security.




DNA - Published




China denounces India's 'discriminatory' app ban

China on Thursday decried a fresh ban by India on scores of Chinese apps - including the hit game PUBG - as a bitter border showdown seeped out into the tech sphere. Internet giant Tencent is among the..




WorldNews - Published





China says India's ban on mobile apps violates 'legal interests' of investors

India has banned another 118 mostly Chinese mobile apps including Tencent Holdings Ltd's popular videogame PUBG, citing data security concerns.




DNA - Published





India bans 118 Chinese apps in new backlash over border dispute

India on Wednesday banned 118 more Chinese apps as the backlash intensified against Beijing over an increasingly bitter border showdown between the giant neighbors. The government said the apps --..




WorldNews - Published





PUBG Mobile is getting a big 1.0 update and a $2 million esports tournament

Photo Illustration by Ajay Kumar/SOPA Images/LightRocket via Getty Images Playerunknown's Battlegrounds may have been eclipsed on console and PC by the flashier battle royale games it inspired,..




The Verge - Published





WeChat users group sues Trump administration over ban it says is unconstitutional

Illustration by Alex Castro / The Verge A group of WeChat users is suing the Trump administration over the president's executive order banning transactions with the app, The Wall Street Journal..




The Verge - Published





Taiwan plans to ban major Chinese video streaming services

Photo by Sam Byford / The Verge Taiwan is planning to lock out video streaming services from Chinese tech giants Baidu and Tencent. While such services are ostensibly already illegal in the..




The Verge - Published





After TikTok and WeChat, Alibaba could be the next target in Trump's tech war

Hong Kong (CNN Business)The United States has taken aim at some of China's biggest tech champions, from Huawei and ByteDance's TikTok to Tencent's WeChat. Alibaba, one of the world's largest retail and..




WorldNews - Published





Trump's WeChat ban could take bite out of Apple

The ban on Tencent's messaging app could end up being be more damaging to the US iPhone maker.




BBC News - Published





Tencent profit surges as gaming grows at fastest pace in two years

Hong Kong — Tencent boosted revenue at the fastest pace since 2018, defying an economic downturn in China as it prepares to face a ban on its WeChat messaging app by US President Donald Trump. Sales..




WorldNews - Published





This may be why Tencent dominates the world of gaming

Tencent Holdings Ltdgaming has full control over Riot Games, famous for League of Legends. with a 100% stake in the company. League of Legends may have been inspired from World of Warcraft but it is..




WorldNews - Published





Nio rebounds from the brink with record sales

Image: Nio Chinese EV startup Nio has rebounded from the early months of the COVID-19 pandemic, setting a company record for deliveries and revenue during the second quarter of 2020. Buoyed by a..




The Verge - Published





How a TikTok ban would affect the influencer economy

Illustration by Alex Castro / The Verge Last week, the Trump administration began to issue executive orders sanctioning Chinese apps TikTok and WeChat, specifically banning "transactions"..




The Verge - Published





The big legal questions behind Trump's TikTok and WeChat bans

Illustration by Alex Castro / The Verge The Trump administration has escalated its threats to ban Chinese social media apps TikTok and WeChat within the US, issuing executive orders last week..




The Verge - Published





How Trump's WeChat ban could devastate Apple's Chinese business

Illustration by Alex Castro / The Verge President Trump's executive order banning WeChat could have far-reaching consequences for almost the entire technology industry, thanks to the app's..




The Verge - Published





What is WeChat and why does President Trump want to ban it?

WeChat is owned by Tencent, whose parent owns a piece of U.S. companies including Tesla, Activision Blizzard and Riot Games and Fortnite maker Epic.




USATODAY.com - Published





What is Tencent?

The Chinese firm's investments include Fortnite, Tesla and Universal Music - but it's under fire in the US.




BBC News - Published





Trump's WeChat ban could touch everything from Spotify to League of Legends

Illustration by Alex Castro / The Verge Last night, the Trump administration issued a pair of stunning executive orders against Chinese technology companies, banning US transactions with the..




The Verge - Published





PUBG Mobile now runs at 90fps in the US, but it's exclusive to OnePlus for a month

If you wanted to play PUBG Mobile at a frame rate higher than 60fps, it was a bit tricky. You either needed to live in China or download the Chinese version of PUBG Mobile (well, it's actually called..




The Verge - Published





Burberry and Tencent team up for concept stores

The luxury British retailer and China's tech giant have joined forces amid growing national tensions.




BBC News - Published





Tencent offers to buy out search engine Sogou in $2.1bn deal

Portland/Hong Kong — Tencent Holdings has offered to buy out and take private search engine Sogou in a $2.1bn deal, adding to a slew of Chinese technology giants seeking to delist from US bourses...




WorldNews - Published





Jack Ma replaced as China's richest by Tencent's Pony Ma

NEW DELHI: Holdings Ltd's $40 billion surge this week and the recent ascent of Pinduoduo Inc have reshuffled the ranking of China's richest people. The country's largest game developer has..




WorldNews - Published





Tencent confirms acquisition of ailing pan-Asian streamer iflix

Chinese tech giant Tencent has confirmed that it has acquired the "content, technology, and resources" of Malaysia-based, pan-Asian streaming service iflix as part of a push into Southeast Asia...




WorldNews - Published





Facebook and PayPal invest in Indonesian start-up Gojek

JAKARTA - Facebook and PayPal have invested in the Indonesian ride-hailing and digital payment start-up Gojek, joining other tech giants Tencent and Google, the Jakarta-based company said Wednesday...




WorldNews - Published





Tencent raises $6 billion in largest Asian corporate debt deal this year

Tencent Holdings Ltd has raised $6 billion in debt, the Chinese technology company said on Thursday, in the largest debt deal by an Asian corporate in 2020.




Reuters - Published





Tencent Sets $70 Billion Aside to Invest in New Infrastructure

Tencent Holdings, the Chinese tech giant, announced that it would invest a hefty 500 billion yuan, or approximately $70 billion, into technology infrastructure for the next five years. This..




WorldNews - Published





Respiratory expert Zhong Nanshan's latest views on COVID-19

Editor's note: On Tuesday evening, Zhong Nanshan, a leading respiratory disease expert, was invited to participate in an online live broadcast hosted by Tencent to share his latest views on COVID-19...




WorldNews - Published





China seeks help of national tech giants to track coronavirus with QR codes

China's government is enlisting the help of Alibaba Group Holding Ltd and Tencent Holdings Ltd to expand color-based systems for tracking individuals affected with the coronavirus nationwide.




Reuters - Published




Tencent extends holiday for China employees till Feb. 9

Chinese gaming giant Tencent Holdings said on Wednesday it will extend the Lunar New Year break for mainland China employees to Feb. 9, and will no longer require them to work from home from Feb. 3..




Reuters - Published




In bid to curb virus, China firms tell staff to work from home even after holidays end

Chinese corporate giants including Alibaba Group Holding and Tencent Holdings Ltd said they have asked staff to work from home for one week after an extended Lunar New Year break ends, seeking to limit..




Reuters - Published




China's Tencent asks staff to work from home until February 7 due to virus

Chinese gaming giant Tencent Holdings Ltd has requested staff to work from home until Feb. 7 to protect employees from the spread of the coronavirus, the company confirmed on Monday.




Reuters - Published




NBA fans in China seek refund from Tencent as streaming suspended

Some Chinese National Basketball Association (NBA) fans have asked for streaming subscription refunds from exclusive service provider Tencent amid a deepening free speech row, a move that could cause..




Reuters - Published





Tencent launches WeChat for drivers

Tencent Holdings on Monday unveiled a version of its popular social media app WeChat tailor-made for drivers with state-backed Chinese carmaker China Chang'an Automobile Group, marking a further foray..




Reuters - Published





Tencent feels bite of rival ByteDance, with slower revenue growth

Hong Kong — Tencent's comeback is taking a little longer than expected. China's leading social media and gaming company posted disappointing revenue growth after rivals such as...




WorldNews - Published





Tencent sorry for Typhoon Lekima deaths blunder

China's largest video-streaming platform wrongly said a typhoon had killed around 99 million people.




BBC News - Published





China's Tencent talking to Vivendi about stake in Lady Gaga's label

China's Tencent Holdings Ltd is in talks to buy up to 20% of Universal Music Group (UMG) from Vivendi SA , valuing the music label of Lady Gaga, Ariana Grande and the Beatles at around 30 billion euros..




Reuters - Published





Vivendi talks Universal with Tencent to tap music revival

Vivendi is in talks to sell up to 20% of Universal Music Group (UMG) to Tencent, valuing its prized asset at around 30 billion euros ($34 billion), as both firms look outside their core regions to..




Reuters - Published





Vivendi turns to Tencent to gain Universal foothold in China

Vivendi is in talks to sell up to 20% of Universal Music Group (UMG) to Tencent , valuing its prized asset at around 30 billion euros ($34 billion), in an attempt to break into China's growing but..




Reuters - Published





Vivendi in talks to sell 10% of Universal Music Group to Tencent

Vivendi said the deal would give UMG a preliminary equity valuation of 30 billion euros. ......




WorldNews - Published

Also reported by •Reuters


Tencent set to buy 10% stake in Universal Music

UMG's parent company Vivendi is in talks with the Chinese tech group over the deal.




BBC News - Published





Daily Cryptocurrency Bulletin For Thursday, June 20, 2019

General News Facebook's Libra crypto will now have a hearing on July 16 with the U.S. Senate Committee on Banking, Housing, and Urban Affairs set to evaluate the risks involved. Pony Ma, CEO of..




WorldNews - Published