Papua (province)
Province in Indonesia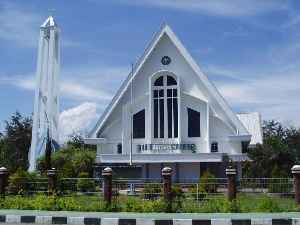 Papua is the largest and easternmost province of Indonesia, comprising most of Western New Guinea. It is bordered by the nation of Papua New Guinea to the east, the province of West Papua to the west, the Pacific Ocean to the north, and the Arafura Sea to the south. According to the 2010 census by Statistics Indonesia, Papua had a population of 2,833,381, majority of whom are Christians. The province is divided into twenty-eight regencies and one city. Its capital and largest city is Jayapura.


Death toll in floods in Indonesia's Papua rises to nearly 80
Authorities in Indonesia raised the death toll from floods and landslides in the easternmost province of Papua to nearly 80 on Monday as President Joko Widodo called for the urgent evacuation of..
Reuters - Published
Indonesia floods: Dozens dead in Papua province
Rescue workers struggle to reach remote parts of Papua province, amid fears the death toll could rise.
BBC News - Published
Floods, Landslides in Indonesia Leave At Least 50 Dead
A spokesperson for the country's disaster agency says those numbers are likely to rise.
Credit: Newsy Studio Duration: 00:31Published
58 people confirmed dead in Indonesia flash floods
Homes and bridges destroyed in Papua province by landslides triggered by torrential rainfall
Credit: euronews (in English) Duration: 01:00Published
Indonesian police use snake in interrogation, apologise for unorthodox method
Indonesian police drape a live snake over a suspect accused of stealing mobile phones, in order to obtain a confession. Rough cut - no reporter narration.
Credit: Reuters Studio Duration: 01:15Published
Flash floods kill at least 58 in Indonesia's Papua province
Flash floods and landslides triggered by torrential rain in Indonesia's easternmost province of Papua have killed at least 58 people, injured dozens and displaced more than 4,000, authorities said on..
Reuters - Published
Flash floods in Indonesia's Papua province kills 42, injures 21; disaster management body says evacuations underway
The floods in Indonesia's Sentani, near the provincial capital of Jayapura, were triggered by torrential rain and subsequent landslides on Saturday, and also left 21 people injured.
Firstpost - Published
At least 42 dead in floods in Indonesia's Papua: official
Flash floods in Indonesia's easternmost province Papua have killed at least 42 people and left 21 badly injured, a local disaster agency official told Reuters on Sunday.
Reuters - Published
Search this site and the web:
You Might Like