Opposition (politics)
Political force against majority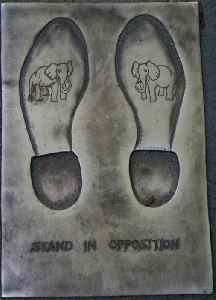 In politics, the opposition comprises one or more political parties or other organized groups that are opposed, primarily ideologically, to the government, party or group in political control of a city, region, state, country or other political body. The degree of opposition varies according to political conditions – for example, across authoritarian and liberal systems where opposition may be either repressed or desired respectively.


You Might Like
Kanpur encounter: Opposition parties slam Yogi Adityanath govt over law and order situation
Opposition parties in Uttar Pradesh, including the Congress and Samajwadi Party, on Friday lashed out at the Yogi Adityanath government over the killing of eight policemen in an encounter in Kanpur,..
IndiaTimes - Published
Lok Sabha adjourns till noon amid protests over Delhi violence
Lok Sabha was adjourned on Thursday till noon as vociferous protests and sloganeering by Opposition parties over the Delhi violence disrupted proceedings for the fourth straight day.
IndiaTimes - Published
Delhi violence: Sonia seeks Amit Shah's resignation; BJP calls it 'dirty politics'
Opposition parties on Wednesday unleashed an all-out attack against the government over violence in northeast Delhi which has claimed at least 22 lives. Sonia Gandhi demanded home minister Amit Shah's..
IndiaTimes - Published
Kosovo voters flock to opposition parties, exit poll shows
Opposition parties Vetevendosje and Democratic League of Kosovo (LDK) were each on track to win 30% of the votes in Kosovo's parliamentary election on Sunday, an exit poll showed, as voters punished..
Reuters - Published
Numbers on its side in Rajya Sabha, Opposition plans to force 7 Bills to panels
With the government planning to extend the Parliament session to push through several legislation, the Opposition parties met Wednesday and identified as many as seven Bills which they want sent to..
WorldNews - Published
Lok Sabha passes anti-terror bill, Union Home Minister Amit Shah defends amendments
The bill was passed after uproar from members of Opposition parties, who claimed that the provision could be misused by authorities
DNA - Published
Lok Sabha: Opposition parties against extension of Parliament session
During a business advisory committee meeting chaired by Lok Sabha Speaker Om Birla, the government conveyed to the opposition parties that it was considering to extend the ongoing parliament session,..
DNA - Published
Raids at senior advocates' premises nothing but 'gross abuse of power': Opposition to PM
The opposition parties on Thursday came out in support of senior advocates Indira Jaising and Anand Grover, condemning the ongoing raids at their homes and offices by the CBI early this morning.
DNA - Published
Your voice matters, PM Narendra Modi tells Opposition on day one of Lok Sabha session
He also had a word of advice for the elected representatives of the Lok Sabha.
DNA - Published