Strait of Gibraltar
Strait that connects the Atlantic Ocean to the Mediterranean Sea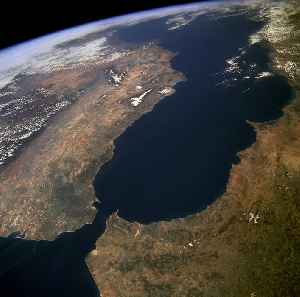 The Strait of Gibraltar is a narrow strait that connects the Atlantic Ocean to the Mediterranean Sea and separates Gibraltar and Peninsular Spain in Europe from Morocco and Ceuta (Spain) in Africa. The name comes from the Rock of Gibraltar, which in turn originates from the Arabic Jebel Tariq named after Tariq ibn Ziyad. It is also known as the Straits of Gibraltar, the Gut of Gibraltar, the STROG in naval use, and Bab Al Maghrib, "Gate of the West". In the Middle Ages, Muslims called it Al-Zuqaq, "The Passage", the Romans called it Fretum Gatitanum, and in the ancient world it was known as the "Pillars of Hercules".


Morocco says it's cutting illegal migrant crossings to Spain
RABAT, Morocco — The North African kingdom of Morocco is using new tactics to cut into the surge of migrants seeking to use it as a springboard to get to Europe, stopping about 25,000 attempts to..
WorldNews - Published
Search this site and the web:
You Might Like