Temple University
Public research university in Philadelphia, United States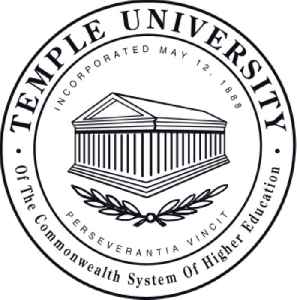 Temple University is a state-related Research 1 University located in Philadelphia, Pennsylvania. It was founded in 1884 by the Baptist minister Russell Conwell. In 1882, Conwell came to Pennsylvania to lead the Grace Baptist Church while he began tutoring working-class citizens late at night to accommodate their work schedules. These students, later dubbed "night owls", were taught in the basement of Conwell's Baptist Temple, hence the origin of the university's name and mascot. By 1907, the institution revised its institutional status and was incorporated as a university.


8/14: CBS Evening News
Multiple officers shot near Philadelphia's Temple University; Talks between U.S. Soccer and U.S. women's team break down.
CBS News - Published
Multiple officers shot near Philadelphia's Temple University
Multiple police officers were shot near Temple University in Philadelphia. Witnesses reported hearing hundreds of shots near the university's Health Sciences Center, which has been placed on lockdown...
CBS News - Published
Cosby Appeals Sexual Assault Conviction
According to Reuters, Bill Cosby appealed his 2018 conviction for sexual assault. The 81-year-old actor and comedian was convicted of drugging and sexually assaulting a former Temple University..
Credit: Wochit News Duration: 00:37Published
Several Philadelphia Police Officers Injured in a Standoff Near Temple University
Officers were pinned down by an active shooter at a residence in North Philadelphia.
NYTimes.com - Published
Researchers announce HIV breakthrough in mice
Researchers at the University of Nebraska Medical Center and Temple University announced progress towards a cure for HIV. The team of scientists say they removed HIV form the DNA of infected mice using..
CBS News - Published
Bill Cosby appeals 2018 conviction for Pennsylvania sex attack
Bill Cosby's lawyers on Tuesday appealed his Pennsylvania conviction for drugging and sexually attacking former Temple University administrator Andrea Constand at his home near Philadelphia in 2004.
Reuters - Published
Nearly 5,000 students get shots at university amid mumps outbreak
The outbreak on the campus of Temple University has reached the triple digits
CBS News - Published
Temple students line up for mumps booster shots
Hundreds of students and staffers lined up at Temple University for free vaccine booster shots as the number of confirmed mumps cases has topped 100. (March 27)
USATODAY.com - Published
You Might Like