Artemis
Greek deity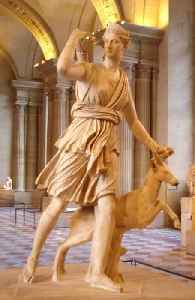 Artemis, in the ancient Greek religion and myth, is the goddess of the hunt, the wilderness, wild animals, the Moon, and chastity.


NASA's Artemis to put first woman on Moon
Washington: NASAs ambitious plan to put the first woman on the Moon by 2024 has been named Artemis. It was set in motion following an additional increase to the agency's budget. NASA's plans for..
WorldNews - Published
NASA vows to make ambitious plan to return to the moon "a reality"
The newly announced Artemis program, named after the Greek goddess of the moon, intends to land astronauts on the South Pole of the moon by 2024
CBS News - Published
NASA To Send First Woman To The Moon Within 5 Years
NASA is requesting an additional $1.6 billion in funding for next year to accelerate its manned mission to the Moon by 2024, which the agency revealed will be titled Artemis, the New York Times..
Credit: Wochit News Duration: 00:52Published
NASA names new moon landing mission 'Artemis' as Trump administration asks for $1.6 billion
NASA is asking Congress for an additional $1.6 billion in the 2020 budget to cover the cost of the newly named Artemis program to reach the moon by 2024.
USATODAY.com - Published
Search this site and the web:
You Might Like