Crown of thorns
Symbol and artifact in Christianity; one of the instruments of the passion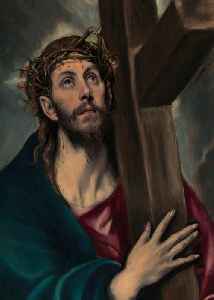 According to three of the Gospels, a woven crown of thorns was placed on the head of Jesus during the events leading up to the crucifixion of Jesus. It was one of the instruments of the Passion, employed by Jesus' captors both to cause him pain and to mock his claim of authority. It is mentioned in the gospels of Matthew, Mark (15:17), and John and is often alluded to by the early Church Fathers, such as Clement of Alexandria, Origen, and others.


The cross still stands and votives remained lit. Signs of hope out of the Notre Dame cathedral fire
The St. Louis tunic, the golden altar cross and the Crown of Thorns dated to Christ all survived the Notre Dame Cathedral's blaze, per early reports.
USATODAY.com - Published
Ancient treasures saved from Notre Dame inferno; firefighters battled tough odds
Some of the Notre Dame Cathedral's most priceless treasures, including a relic known as the Crown of Thorns, have been saved from the massive fire .
USATODAY.com - Published
Heroic Chaplain Saves Artifacts In Notre Dame From Fire
According to CNN, a chaplain with the Paris fire service saved relics from a fire that devastated the Notre Dame Cathedral. Jean-Marc Fournier entered the cathedral with firefighters to help salvage..
Credit: Wochit News Duration: 00:42Published
Fearless Priest Entered Notre-Dame To Rescue Crown Of Thorns Relic Amid Fire
Jean-Marc Fournier, chaplain of the Paris fire brigade, entered the Notre-Dame Cathedral while it was burning to save priceless artifacts. According to Business Insider, Fournier is credited with..
Credit: Wochit News Duration: 00:34Published
What Happened to the Artifacts Inside Notre Dame?
While many artifacts escaped fire damage, officials say some appear to have suffered water damage.
Credit: Newsy Studio Duration: 01:32Published
Search this site and the web:
You Might Like