Pyrenees
Range of mountains in southwest Europe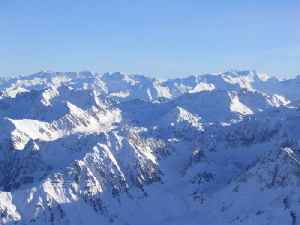 The Pyrenees is a range of mountains in southwest Europe that forms a natural border between Spain and France. Reaching a height of 3,404 metres (11,168 ft) altitude at the peak of Aneto, the range separates the Iberian Peninsula from the rest of continental Europe, and extends for about 491 km (305 mi) from the Bay of Biscay to the Mediterranean Sea.


Spain alarmed by French bear's attacks on sheep
France released two brown bears in the Pyrenees - but one has now killed eight sheep in Spain.
BBC News - Published
Search this site and the web:
You Might Like