New England
Region in the northeastern United States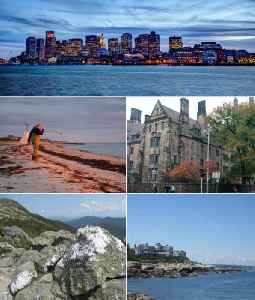 New England is a region comprising six states in the northeastern United States: Maine, Vermont, New Hampshire, Massachusetts, Rhode Island, and Connecticut. It is bordered by the state of New York to the west and by the Canadian provinces of New Brunswick to the northeast and Quebec to the north. The Atlantic Ocean is to the east and southeast, and Long Island Sound is to the southwest. Boston is New England's largest city, as well as the capital of Massachusetts. Greater Boston is the largest metropolitan area, with nearly a third of New England's population; this area includes Worcester, Massachusetts, Manchester, New Hampshire, and Providence, Rhode Island.


Storm Isaias brushes off Florida, heads up East Coast

Isaias, downgraded from a hurricane but still a powerful tropical storm, moved along Florida's eastern coast on Sunday, bringing strong winds but no longer posing a storm surge threat. This report..
Credit: Reuters - Politics Duration: 00:57
Published
Fay weakens over eastern New York

Fay weakened to a post-tropical low pressure system Saturday as it hit eastern New York, the U.S National Hurricane Center said. Fred Katayama reports.
Credit: Reuters - Politics Duration: 00:45
Published
You Might Like



Chipmunks, fattened up on acorns, are driving people nuts

There were plenty of acorns this spring, and now the chipmunks are driving people nuts. Their frenetic activities can be entertaining. But this summer in New England the varmints are making a nuisance..




WorldNews - Published





Sara Gideon Wins Nomination to Challenge Susan Collins in Maine

Ms. Gideon, backed by the Senate Democratic campaign arm and outside political groups, had long been the favorite to challenge Senator Collins, the sole remaining New England Republican in Congress.




NYTimes.com - Published





Warnings issued for Jersey Shore as Tropical Storm Fay set to bring rain, wind, tornadoes

Fay was expected to bring 2 to 4 inches of rain, with the possibility of flash flooding in parts of the mid-Atlantic and southern New England.




USATODAY.com - Published





NE states emerged as role model in tackling Covid-19: Jitendra Singh




IndiaTimes - Published





Trump opens Atlantic sanctuary to commercial fishing

President Donald Trump announced on Friday he will open up a 5,000 square mile conservation area in the Atlantic Ocean off the coast of New England to commercial fishing.




Reuters - Published





Pair Is Arrested on First Fraud Charges Tied to Small-Business Loan Program

The case against two men from New England is part of the Justice Department's effort to fight crimes related to the coronavirus.




NYTimes.com - Published





Now, NE states step up vigil to fight African swine fever




IndiaTimes - Published





Joe Montana on Tom Brady's departure from Patriots: New England 'made a mistake' in letting QB 'get away'

Joe Montana can relate to Tom Brady's late-career change, as the 49ers legend was traded to the Chiefs in his final years in the NFL.




USATODAY.com - Published





Patriots release franchise's all-time leading scorer in kicker Stephen Gostkowski, per report

Tom Brady isn't the only Patriots mainstay who won't be back in New England, as longtime kicker Stephen Gostkowski also will be out.




USATODAY.com - Published





Lions get ex-Patriots DT Danny Shelton on two-year, $8 million deal

The 12th overall pick in the 2015 draft, Shelton played three seasons for the Cleveland Browns before spending the last two years in New England.




USATODAY.com - Published





Shaken but united, Americans pull together to battle coronavirus

When residents of Wilton, Connecticut, first learned one of their own had contracted coronavirus, they naturally worried about infections spreading across their quiet New England hometown.




Reuters - Published





Super Tuesday triumph for Biden sets up one-on-one battle against Sanders

A resurgent Joe Biden rolled to victories across the South, Midwest and New England on the biggest day of voting in the U.S. Democratic presidential nomination campaign, setting up one-on-one battle..




Reuters - Published




New Hampshire man catches 37-pound lake trout, the largest ever caught in the state

At over 40 inches in length, it's also the largest lake trout caught in all of New England. It overtakes the last record by nearly 10 pounds.




USATODAY.com - Published




Biden heading to South Carolina; Sanders steady as New Hampshire votes

MANCHESTER, N.H. - Democratic U.S. presidential hopeful Joe Biden told reporters in New Hampshire on Tuesday he was headed to South Carolina later in the day - before the results of the nominating..




Reuters - Published




New Hampshire primary, coronavirus, Westminster dog show: 5 things you need to know Tuesday

The New England state's primary gets Democrats closer to a nominee, we'll find out who is best in show at Westminster and more to start your Tuesday.




USATODAY.com - Published





Storm brings tornadoes, flooding to the South; up to 20 inches of snow expected in the Northeast

Parts of three Southern states were under tornado watches, up to 5 inches of rain is falling in the East and big snow is coming to the New England.




USATODAY.com - Published




Powerful, snow-packed winter storm on march from New Mexico to New England

A powerful winter storm that dropped two inches of snow on El Paso along the Texas border began a 1,500-mile trek across the nation's heartland.




USATODAY.com - Published





Snowstorm slams West with snow, moves toward central, eastern U.S.

A winter storm that walloped parts of the West with snow now heads to the southern Great Lakes, Pennsylvania, New York and parts of New England.




USATODAY.com - Published





A Maine Paper Mill's Unexpected Savior: China

First came the Buddhist monks. Then the feng shui consultant. In the summer, a battered New England mill town greeted the new owner of its factory — one of the richest tycoons in China.




NYTimes.com - Published





Titans send Tom Brady, Patriots to earliest playoff exit in 10 years

Tom Brady and New England were dealt a stunning loss in Foxborough. The Titans will move on to face the Ravens in the divisional round.




USATODAY.com - Published





Tennessee Titans vs. New England Patriots wild-card playoff preview: Are Tom Brady and Co. on upset alert?

New England is playing in the wild-card round for the first time since 2009, and Tom Brady and Co. will have to fend off a surging Titans team.




USATODAY.com - Published





Wintry Mix Pelting Upper Midwest and New England

A storm system is creating tricky travel conditions on the roads.




NYTimes.com - Published





Intermittent fasting may provide health benefits: Study

Intermittent fasting may provide numerous health benefits like controlling blood-sugar levels, according to a review of studies which suggests the practice may help physicians guide patients towards a..




WorldNews - Published





New England Patriots overcome Buffalo Bills to win AFC East for record 11th consecutive season

New England retains its perennial hold on division, moves one step closer to claiming first-round bye.




USATODAY.com - Published





One of the world's most endangered whales spotted with calf off Georgia coast

Pregnant right whales migrate from the waters off Nova Scotia and New England to give birth in the warmer waters off the coast of Florida and Georgia.




USATODAY.com - Published




More properties expected to be lost to NSW 'mega blaze' after backburning accident

Almost 2000 firefighters are battling 108 blazes across NSW, with total fire bans in place for central ranges, northwestern, northern slopes and New England.




SBS - Published




New U.S. energy secretary slams NY for blocking gas pipelines

New U.S. Energy Secretary Dan Brouillette slammed New York state regulators on Thursday for blocking pipelines that would bring natural gas from Appalachia to New England, but did not specify whether..




Reuters - Published





Deadly winter storm slams the East Coast with snow, ice and rain

A dangerous nor'easter is delivering a blast of snow, ice and rain, creating chaos on the roads from Philadelphia to New York City and across New England. The storm has killed at least seven people...




CBS News - Published





Texans stun Tom Brady, Patriots to knock New England from top AFC seed

The Houston Texans stumped Tom Brady and the New England Patriots' offense in a game that dramatically altered the AFC playoff outlook.




USATODAY.com - Published





Winter Storm Bringing Sloppy and Slippery Conditions to New England

Airports in the Northeast were reporting delays on Sunday as post-Thanksgiving travelers were trying to make their way home.




NYTimes.com - Published





Powerful winter storm threatens millions of travelers heading home - especially in New England

As a winter storm continues east and disrupts holiday traffic, a nor'easter is set to dump heavy snow from New Jersey to Boston.




USATODAY.com - Published




Snow to hit 2,000-mile stretch from Nevada to New England as weekend travelers head home

Black Friday blizzards and snow expected from Nevada to the Upper Midwest and into New England. Meanwhile, severe thunderstorms are headed south.




USATODAY.com - Published




Two winter storm systems to hit Northeast over Thanksgiving

The strong storm that's hitting the Northeast hit on Sunday evening is just a precursor for a worse storm to come over the Thanksgiving holiday. Snow hammered part of the Ohio valley overnight, and now..




CBS News - Published





Dunkin' bans the "double-cup" as it eliminates foam cups

The double-cup habit, started in New England, may be "hard" for some to break, a spokeswoman said




CBS News - Published





Carrie Saxon Perry, Barrier-Breaking Mayor, Dies at 87

The first African-American woman to run a major New England city, Hartford, she died a year ago, but the death was reported only recently.




NYTimes.com - Published





Millions caught in deep freeze as conditions turn deadly

From the Great Lakes to New England, millions of people are digging out from snow. Nearly 150 cold-weather records were broken and dozens more will be shattered on Wednesday. David Begnaud has the..




CBS News - Published





Arctic blast slams U.S., snow hammers states from Midwest to New England

A brutal arctic blast is making its descent on the U.S. and is expected to bring dangerously cold conditions to more than half of the country. Winter weather and winter storm alerts are in effect..




CBS News - Published





Millions face freezing temperatures amid arctic blast

More than 300 records could be shattered -- from the central plains to New England and as far south as Florida.




CBS News - Published





Eye Opener: Arctic cold front descends on U.S.

Temperatures plunge from Texas to New England with a historic arctic punch. Also, former U.N. Ambassador Nikki Haley says two senior White House colleagues wanted her to undermine President Trump. All..




CBS News - Published





Beatrice's Goat

How does a poor girl from Uganda wind up at a college in New England? Bob Simon tells the surprising story of a girl named Beatrice, who made it out of her tiny village and into a school in America --..




CBS News - Published





Powerful coastal storm known as a 'bomb cyclone' will blast the Northeast from New York to Maine

A powerful storm - created by a bombogenesis - will unleash rain and winds from the mid-Atlantic to New England at the end of the week




USATODAY.com - Published




Police Respond to Church Shooting in New Hampshire, Official Says

The police put up tape around the New England Pentecostal Ministries church, according to images on social media.




NYTimes.com - Published





Subtropical Storm Melissa has formed off the coast of New England

Subtropical Storm Melissa will bring heavy rain and wind gusts to 50 mph to portions of Cape Cod, Martha's Vineyard and Nantucket




USATODAY.com - Published




Nor'easter slamming coastal New England with howling wind, drenching rain

A potent, slow-moving nor'easter continued to pound coastal New England on Thursday with heavy rain, rough surf and howling winds.




USATODAY.com - Published