Swachh Bharat mission
National level to clean up India by 2019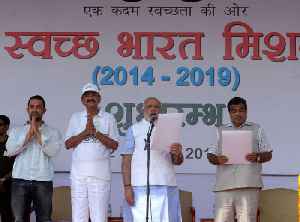 Swachh Bharat Abhiyan (SBA) or Swachh Bharat Mission (SBM) is a nation-wide campaign in India for the period 2014 to 2019 that aims to clean up the streets, roads and infrastructure of India's cities, towns, urban and rural areas. The campaign's official name is in Hindi and translates to "Neat and tidy India Mission" in English. The objectives of Swachh Bharat include eliminating open defecation through the construction of household-owned and community-owned toilets and establishing an accountable mechanism of monitoring toilet use. Run by the Government of India, the mission aims to achieve an "open-defecation free" (ODF) India by 2 October 2019, the 150th anniversary of the birth of Mahatma Gandhi, by constructing 90 million toilets in rural India at a projected cost of ₹1.96 lakh crore. The mission will also contribute to India reaching Sustainable Development Goal 6, established by the UN in 2015.


PM Modi to be honoured by Bill & Melinda Gates Foundation for Swachch Bharat Abhiyan
Modi will be honoured for his leadership of the Swachch Bharat Mission, which he had launched on October 2, 2014. So far, 90 million toilets have been built to eliminate open defecation by October 2,..
IndiaTimes - Published
'Need an entrepreneurial approach towards sanitation': Experts
SWACHH BHARAT: Experts Call for the need to rethink on methodology that relies on ratings
DNA - Published
Bill And Melinda Gates Foundation Criticized Over Award Given To India's Prime Minister
The Bill and Melinda Gates Foundation came under fire for awarding India's Prime Minister. According to CNN, the foundation gave him an award for his work to improve sanitation in the country...
Credit: Wochit News Duration: 00:32Published
'Plogging' 50 Indian cities in 50 days; all for a cleaner India
CLEAN INDIA MISSION: He has so far covered Madurai, Salem, Coimbatore, Puducherry and Chennai
DNA - Published
Gates Foundation to honour PM Modi for Swachh Bharat
The US based Bill and Melinda Gates Foundation will confer PM Narendra Modi with an award for his clean India initiative which was launched during his first term at the Centre in 2014. Swachh Bharat..
IndiaTimes - Published
PM Modi set to deliver his sixth straight I-Day speech
PM Modi will deliver on Thursday his 6th straight Independence Day speech and is expected to touch on a host of issues, ranging from the landmark decision on J&K to the state of economy. Modi has used..
IndiaTimes - Published
J P Nadda pulls up Pragya Singh Thakur for her toilet remarks
BJP working president J P Nadda on Monday "pulled up" Bhopal MP Pragya Singh Thakur for her remarks that she was not elected to the Lok Sabha for cleaning up toilets, comments that were seen to be..
IndiaTimes - Published
Hum naali ya toilets saaf karwane ke liye MP nahi bane hain: Sadhvi Pragya Thakur's another shocker
Sadhvi Pragya Singh Thakur's statement that they have not become MPs to clean gutters or toilets goes totally against the idea of Swachh Bharat (clean India) scheme.
DNA - Published
BJP adds social engagement to its new membership drive
BJP wants members to plant trees & conserve water apart from working for Swachh Bharat.
IndiaTimes - Published
Union Budget 2019-20: Nirmala Sitharaman proposes to expand Swachh Bharat Mission
IndiaTimes - Published
PM Modi calls for Swachh-like water conservation mission
Ruing that only 8% of water received from rainfall was being utilised in the country despite scarcity in many parts, PM Modi made "three requests" to urge all Indians to join hands and save every..
IndiaTimes - Published
Now, PM Modi wants to make piped water drive as big as Swachh Bharat
In his opening remarks at the fifth governing council meeting of Niti Aayog, Modi said one of the major aims of the Centre's integrated approach to water-related issues under the jal shakti ministry is..
IndiaTimes - Published
Swachh Bharat leveraged Rs 23k crore for behaviour change: Study
IndiaTimes - Published
Over 56 lakh household toilets constructed, 6.33 lakh underway under Swachh Bharat Mission till Feb this year: RTI
Over 56.6 lakh individual household toilets have been constructed till February this year and another 6.33 lakh toilets were under construction under the Swachh Bharat Mission-Urban (SBM-U), the..
DNA - Published
Also reported by •IndiaTimes
You Might Like