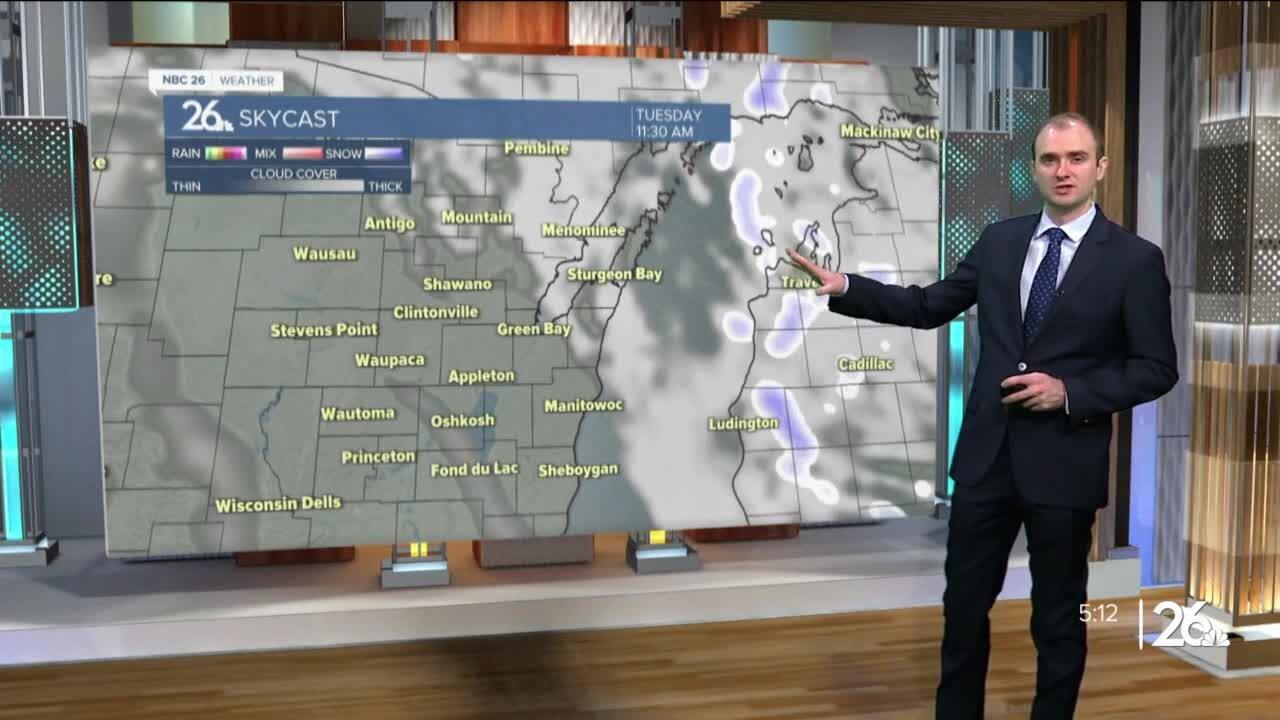 A cold front moves in tonight with some cloudy weather, but otherwise, temperatures will fall into the upper teens and lower 20s.
We may initially see some sunshine Monday morning, but clouds build in quickly as a clipper approaches from the west.
Temperatures will rise into the mid to upper 30s during the day.
Some light snow will move in the afternoon and evening.
Accumulations should remain north of Highway 29 around a dusting to an inch.
A long duration snow event takes shape Tuesday night through Thursday evening across Northeast Wisconsin.
The first round of snow will arrive late Tuesday night after sunset.
It will snow into early Wednesday morning with snowfall totals between 3-5 inches in the highest amounts.
Exactly where this band sets up still isn't set, but either the far Northwoods will see minimal snowfall or Green Lake through Sheboygan will see a low amount near or under an inch.
If you live between Highway 10 and Highway 29, the chance of seeing a couple inches is currently looking strong.
Snowfall will taper off during the day Wednesday as winds pick up out of the northeast with gusts approaching 35-40 mph and lasting through Thursday afternoon.
Some blowing and drifting snow is expected in rural areas.
A few flurries or light snow showers will continue during Wednesday as we wait for the second round of snow to arrive.
Snow begins to pick up Wednesday night and continue through Thursday afternoon with moderate to locally heavy snowfall.
With strong northeast winds during this time, it will make for very difficult driving conditions especially for the Thursday morning commute.
Snowfall will start to weaken in intensity by Thursday night as the storm finally comes to an end.
Snowfall amounts could easily exceed a foot with some data projecting over a foot and a half.
Keep in mind that this excludes snowfall compaction.
When we see high amount of snowfall totals, sometimes all the weight of the snow can press down on the accumulations near the ground and cause the whole amount of snow to compress.
While the data could say 18 inches, it might be 13 or 14 with it being compressed or compacted.
Temperatures fall into the upper teens Friday with another slight chance of snow Friday night.