Joe Arpaio
Former Maricopa County Sheriff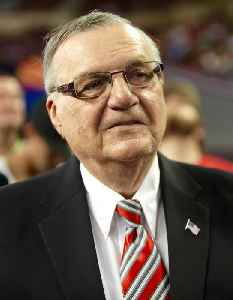 Joseph Michael Arpaio is an American former law enforcement officer and politician. He served as the 36th Sheriff of Maricopa County, Arizona for 24 years, from 1993 to 2017, losing reelection to Democrat Paul Penzone in 2016.


Arpaio: 'This Will Be The Last Time I Run For Office'

Joe Arpaio is the outspoken, controversial, and former sheriff of Maricopa County, Arizona. And according to CNN, he will remain a former sheriff, thanks to Tuesday's Republican primary for the post...
Credit: Wochit News Duration: 00:43
Published
You Might Like



Joe Arpaio: Former Arizona sheriff fails to regain old job

Joe Arpaio, known for his harsh immigration tactics, is beaten in the primary by his former deputy.




BBC News - Published





Ex-Sheriff Joe Arpaio loses Arizona primary race in comeback bid

PHOENIX- Jerry Sheridan has won the GOP nomination in the race for Maricopa County sheriff, beating ex-Sheriff Joe Arpaio. The race has been close, but the latest primary election results released..




WorldNews - Published

Also reported by •USATODAY.com


Joe Arpaio Loses Arizona Primary to Reclaim His Old Sheriff's Job

Voters instead backed Jerry Sheridan, Mr. Arpaio's former chief deputy, who promised to revive many of Mr. Arpaio's policies but without the showmanship.




NYTimes.com - Published





2020 Election Live Updates: When Will Biden Announce His Running Mate?

Joe Biden is making a new effort to challenge President Trump in Ohio. And in Maricopa County, Ariz., Joe Arpaio is seeking a return as sheriff at age 88.




NYTimes.com - Published





How Joe Arpaio's Fate in Arizona Could Be a Window Into Trump's

The polarizing former sheriff of Maricopa County, a stylistic doppelgänger to President Trump, is running for his old office in a state where approval of both men has slid.




NYTimes.com - Published





Does the pardon of Sheriff Joe Arpaio isolate President Trump?

Susan Page, Ben Domenech, Amy Walter, and Clarence Page discuss President Trump's pardon of Sheriff Joe Arpaio and the fate of Trump administration's legislative agenda.




CBS News - Published





"America's toughest sheriff" loses lawsuit against media

A federal judge dismissed Joe Arpaio's defamation lawsuit against CNN, the Huffington Post and Rolling Stone




CBS News - Published





60 Minutes footage shows Arpaio when he was ruthless "Joe the Jailer"

President Trump pardoned former Arizona sheriff Joe Arpaio. When 60 Minutes met him, he was "the meanest man in the West," enforcing tough punishment.




CBS News - Published





Court hears arguments in Arpaio's bid to erase conviction

The former six-term sheriff appealed a lower-court ruling that refused to expunge his conviction​ for disobeying a 2011 court order barring his traffic patrols that targeted immigrants




CBS News - Published





Newark lead plan, casino dorm, Arpaio's return: News from around our 50 states

Paddleboarder lands in Hawaii after landmark trans-Pacific journey, memorial tree to 1919 massacre cut down in Arkansas, and more




USATODAY.com - Published





Joe Arpaio's decision to run for sheriff is a disaster for Republicans: Today's talker

Joe Arpaio's decision to run for sheriff is a disaster for Republicans who hoped to wrest the office away from Democrats in 2020.




USATODAY.com - Published





Ex-Arizona lawman seeks to reclaim mantle as 'America's toughest sheriff'

Joe Arpaio, the former Arizona sheriff who built a national reputation as a staunch foe of illegal immigration, announced on Sunday - the anniversary of his pardon by President Donald Trump - that he..




Reuters - Published





Joe Arpaio Says He Will Run Again for Maricopa County Sheriff

Mr. Arpaio's long and polarizing career has included a conviction for criminal contempt, a pardon from President Trump and a failed bid for the United States Senate.




NYTimes.com - Published





"America's Toughest Sheriff" Joe Arpaio seeking reelection

Now 87, the ex-sheriff became a national political figure by taking on duties like jailing inmates in tents and making them wear pink underwear




CBS News - Published





Penal farm to produce farm, music under the sea: News from around our 50 states

Billboard suggests new Arpaio campaign in Arizona, Chevron in hot water over oil spill in California canyon, and more




USATODAY.com - Published