Samsung Electronics
South Korean multinational electronics company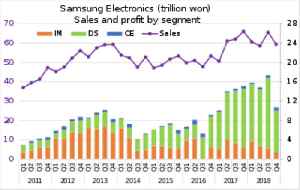 Samsung Electronics Co., Ltd. is a South Korean multinational electronics company headquartered in the Yeongtong District of Suwon. It is the pinnacle of the Samsung chaebol, accounting for 70% of the group's revenue in 2012. Samsung Electronics has played a key role in the group's corporate governance due to circular ownership. Samsung Electronics has assembly plants and sales networks in 74 countries and employs around 290,000 people. It is the world's largest manufacturer of consumer electronics by revenue. As of 2019, Samsung Electronics is the world's second largest technology company by revenue, and its market capitalization stood at US$301.65 billion, the 18th largest in the world.


Samsung to introduce "five new power devices" at its August 5 event

Samsung will introduce "five new power devices" at its upcoming online Unpacked event, revealed TM Roh, who is the President and Head of Mobile Communications Business at Samsung Electronics. The event..
Credit: ANI Duration: 01:27
Published
Apple Music Time-Synced Lyrics now on Samsung smart TVs

Samsung Electronics has announced that Apple Music on Samsung Smart TVs will now feature and display millions of real-time synced lyrics that animate along with the music. Users can easily scroll..
Credit: ANI Duration: 01:29
Published
Samsung Elec says Q2 profit likely rose 23%

Samsung Electronics said Tuesday that second-quarter operating profit likely rose 23% as solid chip sales to data centres bulking up in a work-from-home economy offset weak demand for smartphones...
Credit: Reuters Studio Duration: 01:18
Published
Samsung Electronics launches new customisable refrigerator

Samsung Electronics has launched its new Bespoke refrigerator in selected markets around the world. The Bespoke refrigerator allows consumers to tailor their own configurations by material, color, and..
Credit: ANI Duration: 01:09
Published
S. Korea court denies arrest warrant for Samsung heir

Prosecutors have accused Jay Y. Lee of accounting fraud and stock manipulation in an ongoing investigation related to a 2015 merger. Caroline Malone reports.
Credit: Reuters Studio Duration: 00:46
Published
You Might Like



Samsung Electronics net profit climbs 7.3% in Q2

Samsung Electronics reported Thursday its net profit grew 7.3 percent year-on-year in the second quarter, with strong demand for memory chips overcoming the impact of the coronavirus pandemic on..




WorldNews - Published





S.Korea's Samsung Electronics sees double-digit growth in Q2 operating profit

SEOUL, July 30 (Xinhua) -- Samsung Electronics, South Korea's tech giant, saw a double-digit growth in its second-quarter operating profit as the COVID-19 outbreak increased demand for semiconductors..




WorldNews - Published





Google in talks to take over more search tasks on Samsung phones

Alphabet Inc.'s Google and Samsung Electronics Co. are negotiating a major deal that would give Google products more prominence on the South Korean company's smartphones, according to..




WorldNews - Published





South Korean court denies arrest warrant request for Samsung heir

A South Korean court on Tuesday denied an arrest warrant request for Samsung Group heir Jay Y. Lee after prosecutors accused him of accounting fraud and stock manipulation.




Reuters - Published




Samsung heir appears in court, awaits decision on whether he'll be jailed again

Samsung Group heir Jay Y. Lee on Monday arrived at a South Korean court which will rule whether he will be sent back to jail after more than two years of freedom, as new allegations dog the executive..




Reuters - Published





Samsung heir appears in court for arrest warrant hearing

Samsung Group heir Jay Y. Lee appeared in court on Monday for a hearing to determine whether he should be jailed over allegations of accounting fraud, in his latest brush with the law at South Korea's..




Reuters - Published





Court to decide whether to jail embattled Samsung heir again

A South Korean court will rule as soon as Monday whether to send Samsung Group heir Jay Y. Lee back to jail after more than two years of freedom, as new allegations dog the executive and cast a pall..




Reuters - Published





South Korea seeks arrest of Samsung heir Lee in succession probe

South Korean prosecutors have requested an arrest warrant for Samsung Group heir Jay Y. Lee, they said on Thursday, in the investigation of a 2015 merger and alleged accounting fraud in a suspected bid..




Reuters - Published

Also reported by •Reuters India


Samsung Electronics' operating profit beats market expectations in Q1

SEOUL, April 7 (Xinhua) -- Samsung Electronics, South Korea's tech behemoth, saw its first-quarter operating profit beat market expectations, regulatory filing data showed Tuesday. Operating profit..




WorldNews - Published





Olympics delay deals setback to Samsung's plans to win over Japan market

For Samsung Electronics Co Ltd , the 2020 Tokyo Olympics were going to be its springboard to attain a long-held goal - making significant inroads into Japan's lucrative smartphone market where Apple..




Reuters - Published





Samsung Elec says to remain committed to support the Tokyo Olympics

South Korea's Samsung Electronics Co Ltd said on Wednesday it remains fully committed to supporting the Olympic movement globally.




Reuters - Published





Samsung, Hyundai workers self-quarantine as precaution

SEOUL--Some South Korean workers at Samsung Electronics and Hyundai Motor are staying home as a precautionary measure as corporate Korea scrambles to prevent the coronavirus outbreak from disrupting..




WorldNews - Published





Samsung Electronics confirms coronavirus case at phone factory complex in South Korea

Samsung Electronics said on Saturday that one coronavirus case had been confirmed at its mobile device factory complex in the southeastern city of Gumi, causing a shutdown of its entire facility there..




Reuters - Published




Samsung offers phone delivery service for test use to ride out coronavirus impact

Samsung Electronics has launched smartphone delivery services for customers to test its new products, as the spread of the coronavirus has prompted the tech giant to cancel promotional events and brace..




Reuters - Published




COVID-19's impact on 5G will be limited: Samsung, LG

Roh Tae-moon, Samsung Electronics' mobile chief, previews the Galaxy S20 Ultra 5G during the Galaxy Unpacked 2020 event at the Palace of Fine Arts in San Francisco, Calif., the United States, Feb. 11...




WorldNews - Published





Samsung's jailed board chairman quits

Samsung Electronics' board Chairman Lee Sang-hoon, who was convicted and jailed for sabotaging union activities, has resigned from the South Korean company, it said on Friday.




Reuters - Published





Samsung Electronics board chairman jailed for union-busting activities offers to resign

Samsung Electronics said on Friday that board chairman Lee Sang-hoon, who was sentenced to jail in December for sabotaging union activities, had offered to resign, without elaborating on a reason.




Reuters - Published




Samsung Electronics says its board chairman offers to resign

Samsung Electronics said on Friday that Lee Sang-hoon, the chairman of its board, had offered to resign, without elaborating on a reason.




Reuters - Published





Samsung unveils compact foldable phone, 5G Galaxy S20 to fend off Apple, Huawei

Samsung Electronics on Tuesday unveiled a foldable smartphone shaped like a large makeup compact and put 5G mobile network capabilities into all of its other flagship devices as it strives to retain..




Reuters - Published




Samsung unveils foldable Galaxy Z phone, challenging Apple design and tech

Samsung Electronics on Tuesday unveiled a square-shaped foldable smartphone, its second try at a novel technology that the Korean cell phone maker hopes will set it apart from rivals Apple Inc and..




Reuters - Published





Samsung Electronics extends holiday closure for 'some production facilities' in China

South Korea's Samsung Electronics Co Ltd said it has extended the holiday closure for "some of its production facilities" in China in line with guidance from Beijing aimed at containing the outbreak of..




Reuters - Published




Samsung operating profit falls 34% but beats analyst estimates

Samsung Electronics has projected a fifth straight quarterly decline in profit but that guidance was better than expectations, with analysts forecasting a rebound this year in the memory chip market as..




WorldNews - Published





Samsung Electronics says profit fall likely milder than forecasts as chip prices bottom out

Samsung Electronics Co Ltd on Wednesday said quarterly operating profit likely fell at a milder pace than analysts forecast, indicating memory chip prices bottomed out and strengthening hope of..




Reuters - Published





Samsung Electronics flags smaller-than-expected profit fall as chip market bottoms out

Samsung Electronics Co Ltd on Wednesday flagged a smaller-than-expected fall in quarterly operating profit, indicating that memory chip prices bottomed out quicker than analysts had anticipated,..




Reuters - Published





Samsung flags smaller-than-expected fall in fourth quarter profit as chip price fall eases

Samsung Electronics flagged a smaller-than-expected fall in quarterly operating profit, indicating that memory chip prices bottomed out quicker than analysts had anticipated, strengthening hopes of a..




Reuters - Published





Samsung fourth quarter profit likely fell 34%, beating market estimates

Samsung Electronics said on Wednesday its operating profit likely slumped 34% in the fourth quarter, beating analysts' forecasts, dogged by a year-long downturn in the memory chip market.




Reuters - Published





Samsung to draw line under lackluster 2019 with chip revival in store

With Samsung Electronics expected to suffer its biggest annual profit drop in at least a decade, investors are counting on an expected uptick in the memory-chip market to cure the tech giant's ills..




Reuters - Published





Samsung Electronics says will unveil 'innovative devices' on February 11

Samsung Electronics said on Sunday that it will introduce new, innovative devices in San Francisco on Feb. 11, with the electronics giant widely expected to unveil its new foldable phone and a new..




Reuters - Published




South Korea jails three Samsung Electronics executives over evidence destroyed in probe of alleged fraud

A South Korean court on Monday jailed three executives of Samsung Electronics for their role in a plot that included burying computers under factory floors at its biotech affiliate, in an investigation..




Reuters - Published





Huawei banks on strong smartphone growth despite blacklist

Huawei Technologies Co expects smartphone shipments to grow 20 per cent next year — about the same pace as in 2019 — even if it's blocked from the latest Google software, suggesting the Trump..




WorldNews - Published





Samsung flags smartphone profit fall, upbeat on chips

Samsung Electronics warned of a smaller mobile business profit on Thursday as its rival Apple gave a positive iPhone sales outlook, dampening hopes new models will help the world's largest smartphone..




Reuters - Published





Vietnam is winning from the trade war. News from Google is the latest sign.

The U.S.-China trade war is clearly putting a dent in China's economy, but it seems to be helping one of its neighbors: Vietnam. While the Southeast Asian country has built up a strong manufacturing..




WorldNews - Published





Apple CEO warns Trump about China tariffs, Samsung competition

U.S. President Donald Trump said on Sunday that he has spoken with Apple Inc's Chief Executive Tim Cook about the impact of U.S. tariffs on Chinese imports as well as competition from South Korean..




Reuters - Published





Samsung's profit halves on weak chip, smartphone sales in Q2

Seoul: Samsung Electronics said on Wednesday its second-quarter net profit more than halved from a year earlier on weak chip prices and tepid smartphone sales, warning that Japan's export curbs cloud..




WorldNews - Published





Samsung says Japanese curbs cloud outlook as profit halves, shares fall

Samsung Electronics warned on Wednesday that Japanese curbs on the export of chip-making materials was blurring its outlook and said it would delay a plan to return money to shareholders due to..




Reuters - Published





Samsung Electronics looks to chip recovery as second-quarter profit falls 56%

Samsung Electronics Co Ltd posted a 56% drop in second-quarter operating profit on Wednesday, hit by declines in memory chip prices amid oversupply.




Reuters - Published





Samsung Electronics second-quarter profit down 56% as chip troubles persist

Samsung Electronics Co Ltd posted a 56% drop in second-quarter operating profit on Wednesday, hit by continuing declines in memory chip prices amid oversupply.




Reuters - Published





Samsung to launch Galaxy Fold in September after screen problems

Samsung Electronics Co Ltd's first foldable smartphone, the Galaxy Fold, will go on sale from September in selected markets after the launch was delayed by screen problems...




WorldNews - Published





Samsung could end up in Paris court over ethics pledges, say NGOs

Samsung Electronics could find itself in the dock in France for not abiding by its own ethics pledges, such as a ban on under-age labour and dangerous working conditions at its factories, two NGOs said..




France 24 - Published