Gerald Ford
38th president of the United States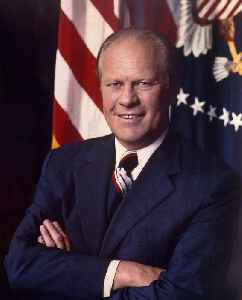 Gerald Rudolph Ford Jr. was an American politician who served as the 38th president of the United States from August 1974 to January 1977. Before his accession to the presidency, Ford served as the 40th vice president of the United States from December 1973 to August 1974. Ford is the only person to have served as both vice president and president without being elected to either office by the Electoral College.


You Might Like
Hanson: Trump's chances for reelection are looking better and better
Donald Trump has at least five strong historical arguments for his reelection. One, he is an incumbent. Incumbent presidents have won 14 of 19 reelection bids since 1900. The few who lost did not enjoy..
WorldNews - Published
San Francisco's Beefeater Doorman Retires after 43 years
SAN FRANCISCO – Another bit of old, quirky San Francisco will be no more when Tom Sweeney finally hangs up his white pressed collar and signature Beefeater jacket this weekend after more than four..
WorldNews - Published
Frederick B. Dent, Commerce Secretary Under Nixon, Dies at 97
He was a staunch defender of the president amid the administration's Watergate crisis and later served as Gerald Ford's trade representative.
NYTimes.com - Published
Today in History for November 27th
San Francisco Mayor shot to death; Gerald Ford named as Richard Nixon's Vice President; Doctors perform world's first partial face transplant; Playwright Eugene O'Neill dies. (Nov. 27)  
USATODAY.com - Published
5 Ways John Paul Stevens Made a Mark on the Supreme Court
He was nominated to the Supreme Court by a Republican president, and even as Justice Stevens emerged as a leading liberal, President Gerald R. Ford remained a fan.
NYTimes.com - Published
John Paul Stevens, retired Supreme Court Justice, has died
Nominated as a moderate by President Gerald Ford, Stevens became the leader of the court's liberal wing
CBS News - Published
MOVIE REVIEW: Vice
by Graham Pierrepoint - VICE IMDb Dir: Adam McKay Starring Christian Bale, Amy Adams, Steve Carell, Sam Rockwell, Tyler Perry, Alison Pill, Jesse Plemons 4.5 STARS (out of 5) Vice was always..
One News Page Staff - Published