Michelle Bachelet
34th & 36th President of Chile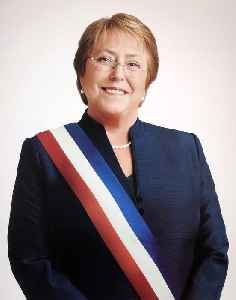 Verónica Michelle Bachelet Jeria is a Chilean politician who served as President of Chile from 2006 to 2010 and again from 2014 to 2018, the first woman to occupy the position. After leaving the presidency in 2010 and while not immediately reelectable, she was appointed the first executive director of the newly created United Nations Entity for Gender Equality and the Empowerment of Women. In December 2013, Bachelet was reelected with over 62% of the vote, bettering the 54% she obtained in 2006. She was the first President of Chile to be reelected since 1932.


UN rights chief 'strongly' condemns 'shocking' mass executions in Saudi Arabia
Despite repeated appeals by the United Nations human rights system, Saudi Arabia's decision to go ahead with the beheading of 37 men, drew strong condemnation on Wednesday from UN High Commissioner..
WorldNews - Published
U.N. rights boss condemns Saudi Arabia beheading 37 men
United Nations human rights chief Michelle Bachelet on Wednesday strongly condemned the executions of 37 Saudi men beheaded in six cities across the kingdom a day before, a statement said.
Reuters - Published
Will Mexico's UN-backed fight against crime worsen crisis?
UN High Commissioner for Human Rights Michelle Bachelet and Mexican President Andres Manuel Lopez Obrador signed a deal aimed at reducing violations, including torture and extrajudicial killings.
Credit: Al Jazeera STUDIO Duration: 02:28Published
U.N. rights boss regrets Israel dismissal of Gaza killings report
United Nations human rights chief Michelle Bachelet said on Wednesday (March 6) that she regretted Israel's "immediate dismissal" of a U.N. report on its security forces killing protesters in Gaza..
Credit: Reuters Studio Duration: 01:20Published
U.N. chief warns against threat of hate speech to "pillars of humanity"
United Nations Secretary-General Antonio Guterres on Monday warned against the rise of hate speech around the world and the threat to "the pillars of humanity" as he opened the U.N. Human Rights..
Credit: Reuters Studio Duration: 01:00Published
Bahrain mass trial raises deep concern: U.N. rights chief
United Nations human rights chief Michelle Bachelet said on Thursday she was concerned that a Bahrain mass trial that revoked the nationality of 138 people this week had not met international fair..
Reuters - Published
Search this site and the web:
You Might Like