Carlos Mesa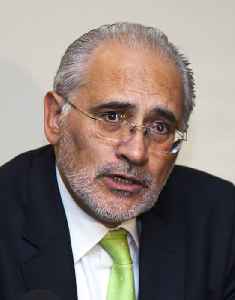 Carlos Diego Mesa Gisbert served as president of Bolivia from 2003 to 2005. He was vice president of Bolivia from August 2002 to October 2003. Mesa previously had been a television journalist. His widespread recognition prompted the MNR candidate Gonzalo Sánchez de Lozada to pick him as running mate in the 2002 Bolivian presidential elections. The winning ticket of Sánchez-Mesa took office August 6, 2002. Soon after becoming vice president, a wave of protests and strikes shut down Bolivia in a bitter dispute known as the Bolivian Gas War. The demonstrations eventually forced Sánchez de Lozada to resign, which put forward Mesa as president.


Bolivia's socialists claim victory in presidential election

Bolivia's socialist candidate Luis Arce looks set to win the country's presidential election without the need for a run-off, an unofficial count indicated on Monday, putting the leftwing party of Evo..
Credit: Reuters - Politics Duration: 02:06
Published
You Might Like



Bolivia's president resigns after losing backing of security forces

Bolivian President Evo Morales resigned on Sunday, caving in following three weeks of sometimes-violent protests over his disputed re-election after the army and police withdrew their backing. "I..




WorldNews - Published





Bolivia opposition candidate says Morales should not be candidate in new election

Bolivian opposition candidate Carlos Mesa said on Sunday that President Evo Morales should not be a candidate in new elections after the Organization of American States (OAS) found serious..




Reuters - Published




Bolivian opposition repeats call for new elections; Morales says going nowhere

Bolivian opposition leader Carlos Mesa asked Congress on Friday to pass an emergency bill setting the details of new elections as his political archenemy, President Evo Morales, vowed again not to..




Reuters - Published





Bolivian opposition candidate invited to vote audit: government

Bolivian opposition candidate Carlos Mesa is invited to participate in an audit of votes cast in the recent presidential election, Vice President Alvaro Garcia said on Tuesday, as protesters prepared..




Reuters - Published




Violence grips Bolivian cities as election standoff enters second week

Street battles broke out on Monday between supporters of President Evo Morales and opposition leader Carlos Mesa, leaving dozens wounded as protests against alleged electoral fraud in Bolivia entered a..




France 24 - Published





Bolivian election rivals end day of protests with rallies, injuries

Supporters and opponents of Bolivian President Evo Morales both ended a day of protests with large rallies on Monday, as Morales' election rival Carlos Mesa assured backers he was headed to either..




Reuters - Published





'No negotiation': Bolivia opposition leader says strikers will not accept talks

Bolivian opposition leader Carlos Mesa on Monday ruled out any negotiations with President Evo Morales to end the South American country's political crisis, as strikes closed roads, schools and..




Reuters - Published





Final vote count in Bolivian election gives Morales outright win after a disputed race

A final vote tally by Bolivia's electoral board gave President Evo Morales an outright win in the first-round election on Thursday, with 47.07% of ballots compared to 36.51% for runner-up Carlos Mesa,..




France 24 - Published

Also reported by •Reuters


Bolivia's Morales calls for his election win to be respected

Bolivian President Evo Morales hailed his election win on Thursday after an official count overnight extended his lead to a decisive 10-point gap over his main rival Carlos Mesa, enough for an outright..




Reuters - Published





Bolivia's Morales takes 10-point lead in election count, would hand him outright win

Bolivian President Evo Morales posted a 10-point lead against main rival Carlos Mesa in the presidential election vote count, official data showed for the first time in the early hours of Thursday, a..




Reuters - Published





Tensions boil over in Bolivia as protesters claim presidential election was rigged

(CNN)Tensions continue to rise on the streets of the Bolivian administrative capital La Paz, with angry crowds accusing authorities of fraud in Sunday's presidential election. Protesters and the..




WorldNews - Published





Bolivia election confusion raises fears of foul play

Bolivia's presidential election has sowed widespread confusion. A preliminary count of almost85% of ballots had strongly indicated there would need to be a second-round runoff, with President Evo..




France 24 - Published

Also reported by •Reuters


Bolivia elections: Evo Morales to face Carlos Mesa in run-off vote

Evo Morales leads in Sunday's presidential election but not enough to avoid a run-off.




BBC News - Published





Bolivia's leftist Morales headed to presidential runoff with chief rival Mesa

Bolivian President Evo Morales led Sunday's election but did not have enough votes to avoid a potentially risky runoff with chief rival Carlos Mesa in December, a preliminary count of nearly 84% of..




Reuters - Published





Bolivia's Morales leads presidential election, but runoff likely

Bolivian President Evo Morales led Sunday's election, but did not have enough votes to avoid a potentially risky runoff with chief rival Carlos Mesa in December, a preliminary count of nearly 84% of..




Reuters - Published





Bolivia's Evo Morales faces presidential run-off, early vote returns show

Bolivian President Evo Morales led Sunday's election, but did not have enough votes to avoid a potentially risky runoff with chief rival Carlos Mesa in December, a preliminary count of nearly 84% of..




France 24 - Published





Bolivia's Morales leads election after quick count; second round looks likely

Bolivian President Evo Morales led Sunday's election with 45.71% of votes compared to 37.84% for his closest rival Carlos Mesa, according to a quick count of 83% of votes by the country's electoral..




Reuters - Published