Joseph Stalin
Soviet leader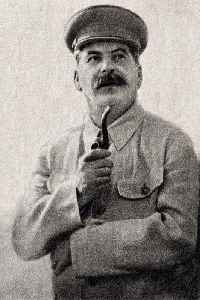 Joseph Vissarionovich Stalin was a Georgian revolutionary and Soviet politician who led the Soviet Union from the mid–1920s until 1953 as General Secretary of the Communist Party of the Soviet Union (1922–1953) and Premier (1941–1953). Initially presiding over a collective leadership as first among equals, by the 1930s he was the country's de facto dictator. A communist ideologically committed to the Leninist interpretation of Marxism, Stalin helped to formalise these ideas as Marxism–Leninism, while his own policies became known as Stalinism.


Centre, Tamil Nadu governments have 'tied' hands of EC "from behind": Stalin
IndiaTimes - Published
Anniversary of the Crimean Tatars deportation: could the history recur?
On May 18, it is 75 years from deportation of the Crimean Tatars - the act of genocide and one of the dark pages of Stalin's era. For the Crimean Tatars it is the day of memory and grieve for..
WorldNews - Published
Rabbis Slam New Abortion Law As Forced-Birth Mentality, Nazi Philosophy
Alabama's newly-passed abortion ban includes text comparing abortion to a host of unrelated issues... ...Like the Holocaust, Stalin's gulags, China's "Great Leap Forward," and Khmer Rouge's Cambodian..
Credit: Wochit News Duration: 01:09Published
Search this site and the web:
You Might Like