Joshua Wong
Hong Kong pro-democracy activist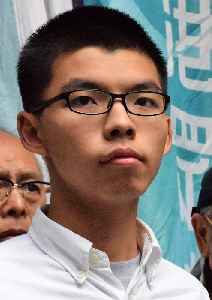 Joshua Wong Chi-fung is a Hong Kong student activist and politician. He served as secretary-general of the pro-democracy party Demosistō until it disbanded following the implementation of the Hong Kong national security law on 30 June 2020. Wong was previously convenor and founder of the Hong Kong student activist group Scholarism. Wong first rose to international prominence during the 2014 Hong Kong protests, and his pivotal role in the Umbrella Movement resulted in his inclusion in TIME magazine's Most Influential Teens of 2014 and nomination for its 2014 Person of the Year; he was further called one of the "world's greatest leaders" by Fortune magazine in 2015, and nominated for the Nobel Peace Prize in 2017.


Hong Kong could host mainland intelligence bases

A Chinese proposal to impose national security laws on Hong Kong could see mainland intelligence agencies set up bases there, raising fears of direct law enforcement and what U.S. Secretary of State..
Credit: Reuters - Politics Duration: 02:24
Published
You Might Like



Hong Kong: The impact of China's national security law

THE national security law adopted by China's National People's Congress Standing Committee in the morning of June 30 and promulgated in Hong Kong at 11 p.m. that night had an immediate effect, with..




WorldNews - Published





Hong Kong security law: Pro-democracy books pulled from libraries

Prominent activist Joshua Wong says the measure is "one step away from actual book banning".




BBC News - Published





Hong Kong Activist Believes He's Main Target of Proposed National Security Law

Hong Kong pro-democracy activist Joshua Wong said he is anticipating being the prime target of a controversial proposed national security law that could be voted on within a few days. Wong...




WorldNews - Published





Only three out of 53 countries say US has handled coronavirus better than China

China has beaten the US in the battle for world opinion over the handling of coronavirus, according to new polling, with only three countries out of 53 believing the US has dealt with the pandemic..




WorldNews - Published





Activists call for Hong Kong to rise up against new security laws

HONG KONG — Hong Kong activists called on Friday for people to rise up against Beijing's plans to impose national security legislation in the city, prompting alarm that the new laws could erode its..




WorldNews - Published





Hong Kong activist urges huge turnout for weekend rally

Hong Kong anti-government protests fizzled on Friday after a night of clashes in a central bar district and prominent pro-democracy activist Joshua Wong called for 100,000 people to take to the streets..




Reuters - Published

Also reported by •CBS News


Hong Kong protesters plan huge march after gatecrashing Halloween

Hong Kong protesters planned flash mob demonstrations in shopping malls on Friday after a night of clashes in a central bar district as prominent pro-democracy activist Joshua Wong called for 100,000..




Reuters - Published




Hong Kong bars activist Joshua Wong from district poll

Hong Kong authorities disqualified prominent pro-democracy activist Joshua Wong on Tuesday from standing in upcoming district elections, a move likely to sow discord among anti-government demonstrators..




Reuters - Published




Hong Kong pro-democracy activist Joshua Wong barred from running in election

High-profile Hong Kong pro-democracy activist Joshua Wong has been banned from running in an election next month.




SBS - Published

Also reported by •Reuters •WorldNews


Hong Kong: Joshua Wong calls his election ban 'politically driven'

The high-profile Hong Kong activist has been barred from running in district council elections.




BBC News - Published





Umbrella Movement icon Joshua Wong barred from Hong Kong election

Hong Kong authorities barred high-profile pro-democracy activist Joshua Wong from an election, and the city's leader ruled out political solutions before the end of the violent protests gripping the..




France 24 - Published





Prominent Hong Kong activist Joshua Wong to run for office

Prominent Hong Kong activist Joshua Wong announced plans Saturday to contest local elections and warned that any attempt to disqualify him will only spur more support for monthslong pro-democracy..




WorldNews - Published





Hong Kong Activist Seeks U.S. Support for Pro-Democracy Protests

Hong Kong pro-democracy activist Joshua Wong said on Saturday he was seeking the support of U.S. lawmakers for the demands of his fellow protesters who have led months of streets demonstrations,..




WorldNews - Published

Also reported by •Reuters


Hong Kong Protest Leaders Bring Human Rights Diplomacy to US

Joshua Wong, one of the most visible leaders of the Hong Kong protest movement, has arrived in the United States to rally support following a whirlwind visit to Berlin. Wong, who has been permitted to..




WorldNews - Published





China summons German ambassador over Hong Kong activist's Berlin visit

Beijing summoned the German ambassador after a meeting between Hong Kong activist Joshua Wong and Germany's foreign minister, China's envoy said Wednesday, as a row between the trading giants..




France 24 - Published





China summons German ambassador to Beijing

The Chinese government took action in protest at German Foreign Minister Heiko Maas meeting with pro-democracy activist Joshua Wong. Beijing says it has "sufficient proof" of foreign intervention in..




WorldNews - Published





China envoy raps Germany over meeting with Hong Kong activist

A meeting between Germany's foreign minister and Hong Kong activist Joshua Wong will damage its relations with China, Beijing's ambassador to Berlin said on Wednesday in an unusually direct verbal..




Reuters - Published




China summons German envoy to foreign ministry over Hong Kong activist

A meeting between Germany's foreign minister and Hong Kong activist Joshua Wong sent very negative signals for bilateral relations, China's ambassador to Germany said on Wednesday, adding that the..




Reuters - Published




Rally supporting HK protesters planned in Taiwan

Several political groups in Taiwan, including the ruling Democratic Progressive Party, are planning a mass rally outside the Legislative Yuan in Taipei at the end of this month to show solidarity and..




WorldNews - Published





German FM meeting with Joshua Wong 'disrespectful': China

Beijing has slammed democracy activist Joshua Wong's meeting with Germany's foreign minister as "disrespectful." Wong has urged the free world to stand by Hong Kong protesters against the long arm of..




WorldNews - Published





China angered after German foreign minister meets HK activist

China expressed anger on Tuesday after German Foreign Minister Heiko Maas met prominent Hong Kong activist Joshua Wong, saying that no foreign country had a right to interfere in China's internal..




Reuters - Published




My town is the new Cold War's Berlin: Hong Kong activist Joshua Wong

Comparing the struggle of Hong Kong's pro-democracy protesters to the role of Berlin during the Cold War, activist Joshua Wong told an audience in the German capital that his city was now a bulwark..




Reuters - Published




German minister welcomes release of Hong Kong activist Joshua Wong

German Foreign Minister Heiko Maas on Monday welcomed the release of Hong Kong's Joshua Wong from police custody and said he was prepared to meet the pro-democracy activist in Berlin.Maas said he had..




WorldNews - Published

Also reported by •Reuters


Hong Kong activists arrested including Joshua Wong in crackdown on protests

Hong Kong police arrested a number of prominent pro-democracy activists including Joshua Wong and three lawmakers on Friday, seeking to rein in protests that have plunged the city into its worst..




Reuters - Published




Pro-democracy activists arrested ahead of planned rally

Joshua Wong was pushed into a private car as he was heading to a subway station around 7:30 a.m. and has been taken to police headquarters, the Demosisto group




CBS News - Published





Hong Kong democracy activist Joshua Wong among three arrested before weekend protests

Hong Kong democracy activist Joshua Wong was arrested on Friday ahead of another weekend of planned protests in the Chinese-ruled city that is grappling with its biggest political crisis since its..




Reuters - Published