Irish people
Ethnic group with Celtic and other roots, native to the island of Ireland, with shared history and culture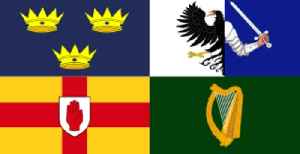 The Irish are a Celtic nation and ethnic group native to the island of Ireland, who share a common Irish ancestry, identity and culture. Ireland has been inhabited for about 12,500 years according to archaeological studies. For most of Ireland's recorded history, the Irish have been primarily a Gaelic people. Viking invasions of Ireland during the 8th to 11th centuries established the cities of Dublin, Wexford, Waterford, Cork and Limerick. Anglo-Normans conquered parts of Ireland in the 12th century, while England's 16th/17th-century (re)conquest and colonisation of Ireland brought a large number of English and Lowland Scots people to parts of the island, especially the north. Today, Ireland is made up of the Republic of Ireland and the smaller Northern Ireland. The people of Northern Ireland hold various national identities including British, Irish, Northern Irish or some combination thereof.


Woman fights for her brother's honor after brutal N.C. murder
The Irish businessman was beaten to death with a brick paver and a baseball bat in 2015 by his American au-pair-turned-wife and her father, a former FBI agent - who claim it was in self-defense
CBS News - Published
Darby O'Gill: Searching for 'King of Leprechauns' fan
An Irish family is trying to track down an 11-year-old who wrote to Irish actor Jimmy O'Dea in 1959.
BBC News - Published
Brexit: Uncertainty on Irish backstop leaves residents on border anxious
As Brexit negotiations continue, Irish residents are wary of a future with a potential hard border.
Credit: Al Jazeera STUDIO Duration: 06:54Published
Owners of Irish dog who boarded a train by himself are found
The owners of an adventurous Irish dog who took a solo train ride to Dublin have been found. Irish Rail announced the happy ending to a shaggy dog's story that has captivated pet lovers across the..
Credit: PA - Press Association STUDIO Duration: 00:42Published
Search this site and the web:
You Might Like