Ku Klux Klan
American white supremacy group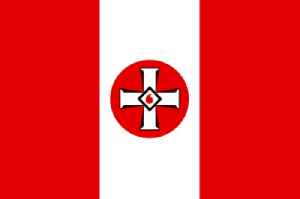 The Ku Klux Klan, commonly called the KKK or the Klan, is an American white supremacist hate group. The Klan has existed in three distinct eras at different points in time during the history of the United States. Each has advocated extremist reactionary positions such as white nationalism, anti-immigration and—especially in later iterations—Nordicism and anti-Catholicism. Historically, the Klan used terrorism—both physical assault and murder—against groups or individuals whom they opposed. All three movements have called for the "purification" of American society and all are considered right-wing extremist organizations. In each era, membership was secret and estimates of the total were highly exaggerated by both friends and enemies.


Ku Klux Klan recruiter caught on surveillance video
Surveillance footage from downtown Lafayette, obtained by the J&C, shows a man distributing bags of Ku Klux Klan propaganda early Tuesday morning.
USATODAY.com - Published
Mississippi Judge Carlton Reeves likens Trump attack on judiciary to KKK tactics
Mississippi federal Judge Carlton Reeves also assailed the Trump administration for lack of diversity in judicial appointments.
USATODAY.com - Published
Global White Supremacy Needs a Global Response
World leaders have condemned the attack in New Zealand, but there's been little talk about how to address the ideology that led to the violence.
Credit: Newsy Studio Duration: 04:39Published
Ron Stallworth Explains Why "BlacKkKlansman" Still Resonates
Newsy interviewed former detective Ron Stallworth, whose memoir inspired the Oscar award-winning film "BlacKkKlansman."
Credit: Newsy Studio Duration: 04:29Published
Alabama Pro-KKK Editor Steps Down, Gives Keys To Black Woman
There were cries from many in the community for Democrat-Reporter editor and publisher, Goodloe Sutton, to step down. According to Business Insider, the Linden, Alabama newspaper editor/publisher wrote..
Credit: Wochit News Duration: 00:45Published
"Green Book" and "Bohemian Rhapsody" win big at the Oscars
The Academy Awards see a shift three years after the #OscarSoWhite controversy. 'Green Book' took best picture while 'Bohemian Rhapsody', 'Roma', 'BlacKkKlansman' and 'Black Panther' all won awards at..
Credit: Reuters Studio Duration: 02:12Published
Racist Newspaper Editor Replaced By African-American Woman
CNN reports an African-American woman replaced a publisher and editor who encouraged the Ku Klux Klan to "night ride again." Elecia R. Dexter replaced Goodloe Sutton, the Alabama newspaper's current..
Credit: Wochit News Duration: 00:32Published
Report: Number of Hate Groups Across the US Is Rising
The Southern Poverty Law Center says the number of hate groups in America rose 30 percent over the last four years.
Credit: Newsy Studio Duration: 01:28Published
Search this site and the web:
You Might Like