Grand Canyon National Park
National park of the United States in Arizona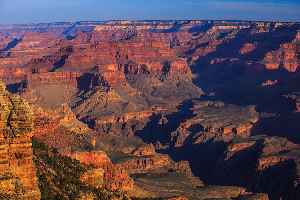 Grand Canyon National Park, located in northwestern Arizona, is the 15th site in the United States to have been named a national park. The park's central feature is the Grand Canyon, a gorge of the Colorado River, which is often considered one of the Wonders of the World. The park, which covers 1,217,262 acres of unincorporated area in Coconino and Mohave counties, received more than six million recreational visitors in 2017, which is the second highest count of all American national parks after Great Smoky Mountains National Park. The Grand Canyon was designated a World Heritage Site by UNESCO in 1979.


The most popular national parks, from the Grand Canyon to Acadia
Looking for an outdoorsy spring vacation destination? The National Parks Service named these spots the top 10 most visited national parks of 2018.
USATODAY.com - Published
Grand Canyon hires Marvin Menzies as assistant coach
Grand Canyon has hired former UNLV basketball coach Marvin Menzies as an assistant coach
USATODAY.com - Published
Another Tourist Found Dead at the Grand Canyon
According to the National Park Service, a 67-year-old man fell to his death from the South Rim on Wednesday.
Credit: Newsy Studio Duration: 00:41Published
The Grand Canyon Probably Hosted Ancient Rivers
It's hard to pinpoint the Grand Canyon's exact age. Experts think ancient rivers might have carved out parts of it before the Colorado River did.
Credit: Newsy Studio Duration: 01:47Published
Not Even Federally Lands Are Safe From Resource Development
New legislative efforts aim to slow down the Trump Administration's plans to open swaths of protected lands to resource development.
Credit: Newsy Studio Duration: 01:38Published
Search this site and the web:
You Might Like