Hyderabad
Metropolis in Telangana, India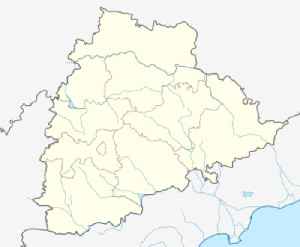 Hyderabad
is the capital of the Indian state of Telangana and
de jure
capital of Andhra Pradesh. Occupying 650 square kilometres (250 sq mi) along the banks of the Musi River, Hyderabad City has a population of about
6.9 million
and about
9.7 million
in Hyderabad Metropolitan Region, making it the fourth-most populous city and sixth-most populous urban agglomeration in India. At an average altitude of 542 metres (1,778 ft), much of Hyderabad is situated on hilly terrain around artificial lakes, including Hussain Sagar—predating the city's founding—north of the city centre.
Hyderabad housemaid in Riyadh dies under suspicious circumstances
The family of a 27-year-old woman Nasreen Fatima has asked for an investigation into her suspicious death in Saudi Arabia. Fatima from Hyderabad was working as a housemaid with a family in Riyadh and..
IndiaTimes - Published
Modi's jobs deficit: J&J's largest India plant idle three years after completion
It was supposed to be Johnson & Johnson's biggest manufacturing plant in India. It was to eventually employ at least 1,500 people and help bring development to a rural area near Hyderabad in southern..
Reuters - Published
Pilot alleges sexual harassment by her commander, Air India sets up high-level inquiry
According to a complaint filed by the pilot, the incident allegedly took place on May 5 in Hyderabad where she was being trained by the commander.
DNA - Published
Future of Residential projects in Hyderabad – Hyderabad Real Estate
Hyderabad is emerging as one of the likable city for real estate investment, since 3 year huge number of people around different cities in India started opting Hyderabad for job searches, investment,..
WorldNews - Published
Baby on the plane: In-flight delivery after flight makes emergency landing in Hyderabad
An in-flight delivery of a baby was facilitated by a team of doctors here following an emergency call for medical attention to a woman in labour, Apollo Hospitals said Monday.
DNA - Published
IPL 2019 Final: Mumbai Indians beat Chennai Super Kings by 1 run to win unprecedented 4th IPL title
HYDERABAD: Lasith Malinga produced an incredible last over to defend nine runs as Mumbai Indians claimed undisputed supremacy in the IPL by securing their fourth title with a narrow one-run win over..
WorldNews - Published
Congress left red-faced as 2 senior leaders come to blows on dais in Hyderabad
IndiaTimes - Published
Pakistan man arrested in murder of Indian from Hyderabad working in London
IndiaTimes - Published
Watch: Two Congress leaders thrash each other during Telangana exam result protest in Hyderabad
Video footage of the incident shows that as Congress leaders V Hanumantha Rao begins to speak, he is interrupted by Nagesh Mudhiraj who comes up on the stage. Rao is seen shoving the latter off the..
DNA - Published
You Might Like