DeMarcus Cousins
American basketball player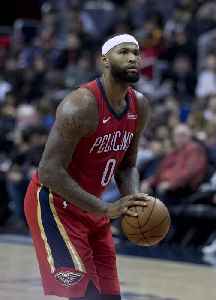 DeMarcus Amir Cousins is an American professional basketball player for the Golden State Warriors of the National Basketball Association (NBA). Nicknamed "Boogie", he played college basketball for the Kentucky Wildcats, where he was an All-American in 2010. He left Kentucky after one season, and was selected with the fifth overall pick in the 2010 NBA draft by the Sacramento Kings. In his first season with the Kings, Cousins was named to the NBA All-Rookie First Team, and from 2015 to 2018, he was named an NBA All-Star. He is also a two-time gold medal winner as a member of the United States national team, winning his first in 2014 at the FIBA Basketball World Cup and his second in 2016 at the Rio Olympics.


Warriors star DeMarcus Cousins won't need surgery on torn left quad, but unlikely to return for NBA playoffs
The Golden State Warriors received a glimmer of hopeful news but are still expecting to miss their powerful big man for for the rest of the playoffs.
USATODAY.com - Published
Injured DeMarcus Cousins unlikely to return this postseason
Center DeMarcus Cousins is unlikely to return this postseason for the Golden State Warriors yet won't require surgery on his torn left quadriceps muscle
USATODAY.com - Published
DeMarcus Cousins Suffers Another Brutal Season-Ending Injury
For the second year in a row, DeMarcus Cousins has suffered a serious injury that could end his season early. Cousins tore his left quadriceps in Game 2 of the Golden State Warriors first-round series..
Credit: Wochit News Duration: 01:16Published
DeMarcus Cousins Is Injured
The Warriors are facing a scary situation early in their Game 2 battle against the Clippers, because DeMarcus Cousins had to head back through the tunnel after injuring his left leg while trying to..
Credit: Wochit News Duration: 00:30Published
How Important is DeMarcus Cousins to the Warriors' Success?
DeMarcus Cousins scored a season-high 27 points in Golden State's Thursday night win over Houston. Is Cousins the key to the Warriors' title run? SI Now's Ryan Asselta and Amy Campbell discuss.
Credit: Sports Illustrated Duration: 01:48Published
How Bad is DeMarcus Cousins' injury?
What I'm Hearing: Golden State Warriors' forward DeMarcus Cousins suffered an injury in Game 2 of their series with the Clippers and Jeff Zillgitt provides an update.
USATODAY.com - Published
Golden State Warriors star DeMarcus Cousins to miss 'a while' with quad injury
Golden State Warriors head coach Steve Kerr says star big man DeMarcus Cousins is going to be out "a while" with a "pretty significant quad injury."
USATODAY.com - Published
DeMarcus Cousins injures left quadriceps early in Game 2
Starting Warriors center DeMarcus Cousins injured his left quadriceps muscle in the first quarter of Game 2 against the Clippers and was done for the night
USATODAY.com - Published
NBA playoffs: Philadelphia looks fine, Boogie Cousins injury does not
SportsPulse: After the debacle and drama of Game 1, the 76ers bounced back with a record-setting night. USA TODAY's AJ Neuharth-Keusch breaks it all down.
USATODAY.com - Published
You Might Like