Taoism
Religious or philosophical tradition of Chinese origin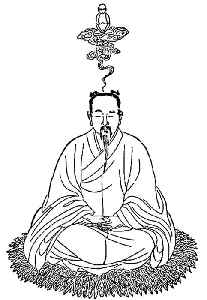 Taoism, or Daoism, is a religious or philosophical tradition of Chinese origin which emphasizes living in harmony with the Tao. The Tao is a fundamental idea in most Chinese philosophical schools; in Taoism, however, it denotes the principle that is the source, pattern and substance of everything that exists. Taoism differs from Confucianism by not emphasizing rigid rituals and social order, but is similar in the sense that it is a teaching about the various disciplines for achieving "perfection" by becoming one with the unplanned rhythms of the universe called "the way" or "dao". Taoist ethics vary depending on the particular school, but in general tend to emphasize wu wei, "naturalness", simplicity, spontaneity, and the Three Treasures: 慈 "compassion", 儉 "frugality", and 不敢為天下先 "humility".


Chinese businessman-turned-Taoist leader confirms he is father of the student who was kidnapped in Canada
Lu Wenrong, whose wealth became the focus of public interest after his son was abducted in Canada in March, said his personal fortune had nothing to do with his role as deputy president of the official..
WorldNews - Published
Search this site and the web:
You Might Like