Ian McKellen
English actor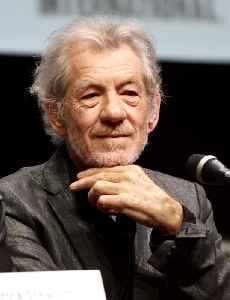 Sir Ian Murray McKellen is an English actor. His career spans genres ranging from Shakespearean and modern theatre to popular fantasy and science fiction. He is the recipient of six Laurence Olivier Awards, a Tony Award, a Golden Globe Award, a Screen Actors Guild Award, a BIF Award, two Saturn Awards, four Drama Desk Awards, and two Critics' Choice Awards. He has also received nominations for two Academy Awards, five Primetime Emmy Awards, and four BAFTAs. He achieved worldwide fame for his film roles, including the titular King in Richard III (1995), James Whale in Gods and Monsters (1998), Magneto in the X-Men films, and Gandalf in The Lord of the Rings and The Hobbit trilogies.


You Might Like
MOVIE REVIEW: Cats
by Graham Pierrepoint - CATS IMDb Dir: Tom Hooper Starring Francesca Hayward, James Corden, Judi Dench, Jason Derulo, Idris Elba, Jennifer Hudson, Ian McKellen, Taylor Swift, Rebel Wilson 1 STAR..
One News Page Staff - Published
MOVIE REVIEW: The Good Liar
by Graham Pierrepoint - THE GOOD LIAR IMDb Dir: Bill Condon Starring Ian McKellen, Helen Mirren, Russell Tovey, Jim Carter 2.5 STARS (out of 5) With a cast boasting two big stars like McKellen..
One News Page Staff - Published
'Good Liar' reviews: Critics call Helen Mirren and Ian McKellen's thirller 'underwhelming'
Ian McKellen stars as Roy Courtnay, a career con-artist who has his eyes set on his next target: Wealthy widow Betty McLeish, played by Helen Mirren.
USATODAY.com - Published
Mirren and McKellen reflect on new film and a gondola ride in NYC
In "The Good Liar," McKellen is an elegant con man and Mirren is a wealthy widow
CBS News - Published
Helen Mirren and Ian McKellen co-star in "The Good Liar," their first film together
Two icons of British acting are appearing together for the first time in the new big-screen mystery, "The Good Liar". The film stars Helen Mirren and Ian McKellen. They have won or been nominated..
CBS News - Published
Helen Mirren and Ian McKellen go for a "bloody amazing" gondola ride in Central Park
Dame Helen Mirren and Sir Ian McKellen are starring in their first movie together, "The Good Liar." "CBS This Morning" co-host Anthony Mason took them out for a spin in a gondola on The Lake in..
CBS News - Published
Climate policies 'will transform UK landscape'
Sir Ian says the UK needs to reduce the amount of red meat it produces and eats if it is to meet the Net Zero emissions target by 2050. He told BBC News: "What I see is a farming system that's very..
WorldNews - Published
Swipe right for stars
Sir Ian McKellen and Dame Helen Mirren ponder the joys of online dating at "The Good Liar" premiere in London. (Oct. 29)
USATODAY.com - Published
Taylor Swift and Idris Elba throw some feline shapes in star-studded teaser for Cats The Movie
Taylor Swift stars in the screen adaptation of Cats The Movie (Picture: AP) A behind-the-scenes teaser has dropped for the star-studded Cats The Movie and we're purring (sorry) with excitement. The..
WorldNews - Published