Armistice of 11 November 1918
Armistice during First World War between Allies and Germany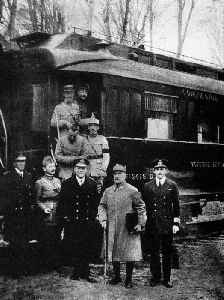 The Armistice of 11 November 1918 was the armistice signed at Le Francport near Compiègne that ended fighting on land, sea and air in World War I between the Allies and their opponent, Germany. Previous armistices had been agreed with Bulgaria, the Ottoman Empire and the Austro-Hungarian Empire. Also known as the Armistice of Compiègne from the place where it was signed at 5:45 a.m. by the French Marshal Foch, it came into force at 11:00 a.m. Paris time on 11 November 1918 and marked a victory for the Allies and a defeat for Germany, although not formally a surrender.


Is Macron Right? Is NATO, 70, Brain Dead?
> A week from now, the 29 member states of "the most successful alliance in history" will meet to celebrate its 70th anniversary. Yet all is not well within NATO. Instead of a "summit," the gathering,..
WorldNews - Published
Search this site and the web:
You Might Like