Li Keqiang
Premier of the People's Republic of China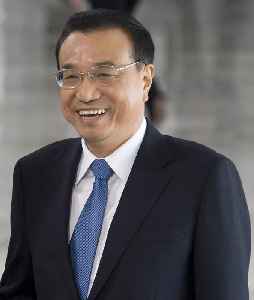 Li Keqiang is a Chinese politician who is the current Premier of the State Council of the People's Republic of China. An economist by trade, Li is China's head of government as well as one of the leading figures behind China's Financial and Economic Affairs, Foreign Affairs, National Security and Deepening Reforms. He is also the second-ranked member of the Politburo Standing Committee of the Communist Party of China, the de facto top decision-making body of the country. Li is a major part of the "fifth generation of Chinese leadership" along with General Secretary Xi Jinping. Li was named the world's 12th most powerful person by Forbes in their list of the world's most powerful people in 2015 and 2016.


China parliament approves Hong Kong security bill

China's parliament approved a decision on Thursday to go forward with national security legislation for Hong Kong that democracy activists in the city and Western countries fear could endanger its..
Credit: Reuters - Politics Duration: 02:13
Published
China National People's Congress focuses on economic recovery

Premier Li Keqiang says Beijing spared no effort in containing the coronavirus outbreak but the economic fallout is immense.
Credit: Al Jazeera STUDIO Duration: 02:35
Published
China ditches GDP target for first time

China will refrain from setting a GDP target citing concerns over the coronavirus and global uncertainty, the country's premier said on Friday. Ciara Lee reports
Credit: Reuters Studio Duration: 01:27
Published
You Might Like



Can millions more street vendors save China from a jobs crisis? Beijing appears divided

(CNN Business)For years, China staked its future on world class manufacturing and new technology. Now, it's having to contemplate a simpler, and older, solution to its looming jobs crisis involving..




WorldNews - Published





EU, China to hold video summit to discuss coronavirus outbreak

Photo: AFP Leaders from China and European Union will hold a video summit today to discuss the coronavirus pandemic and tensions rising over new tariffs targeting Chinese firms. The heads of the EU's..




WorldNews - Published





Germany's Merkel, China's Li to hold video conference: spokesman

German Chancellor Angela Merkel and Chinese Premier Li Keqiang will hold a video conference on Thursday to discuss the coronavirus pandemic, economic policy and international issues, a German..




Reuters - Published





China will promote resumption of tourism, culture and sports: state media

China will promote the resumption of the tourism, culture and sports sectors, a top-level meeting chaired by Premier Li Keqiang said on Thursday, state radio reported.




Reuters - Published





China and U.S. should respect each other's core interests: Premier Li

China and United States should respect each other's core interests and manage their differences, Premier Li Keqiang said on Thursday, adding that a decoupling of their economies is not good for the..




Reuters - Published




China premier says security law will support HK stability, security

Chinese Premier Li Keqiang said on Thursday that national security legislation, which China's parliament voted overwhelmingly to impose on Hong Kong, would benefit the territory's long-term stability..




Reuters - Published




Premier Li: China always opposes external interference on Taiwan

China always opposes external interference when it comes to the issue of Chinese-claimed Taiwan, Chinese Premier Li Keqiang said on Thursday as his annual news conference.




Reuters - Published





China abandons growth target for first time in years amid 'great uncertainty' over coronavirus recovery

Parting with years of precedent, China abandoned its growth target for 2020, in acknowledgement that there is "great uncertainty" facing the country as it looks to restart its economy after the..




WorldNews - Published





China drops word 'peaceful' in latest push for Taiwan 'reunification'

Chinese Premier Li Keqiang left out the word "peaceful" on Friday in referring to Beijing's desire to "reunify" with Chinese-claimed Taiwan, an apparent policy shift that comes as ties with Taipei..




Reuters - Published





China omits 2020 growth target amid "great uncertainty" over pandemic

China on Friday abandoned setting an economic growth target for 2020, citing "great uncertainty" over the impact of the coronavirus pandemic on the world's second-largest economy. It is the first time..




WorldNews - Published





China to encourage Taiwan's people to promote 'reunification'

China will encourage the people of Taiwan to join it in opposing the island's independence and promoting China's "reunification", Chinese Premier Li Keqiang said on Friday, a move likely to worsen..




Reuters - Published




China drops GDP goal, pledges higher spending as parliament starts

China omitted a 2020 economic growth target for the first time and pledged government support for the economy in Premier Li Keqiang's work report on Friday, launching the country's annual parliament..




Reuters - Published





China to establish 'sound' legal system for national security in Hong Kong

China will establish a "sound" legal system and enforcement mechanisms to ensure national security in Hong Kong and Macau, Chinese Premier Li Keqiang said on Friday in his annual report to parliament.




Reuters - Published




China to focus on clusters of coronavirus infections in hospitals

China will pay close attention to clusters of coronavirus infections, especially in hospitals, according to a top level meeting chaired by Premier Li Keqiang on Wednesday.




Reuters - Published





China will step up coronavirus testing for people leaving Wuhan

China will step up coronavirus testing and health management for people leaving Wuhan, state television reported Monday, quoting a meeting chaired by Premier Li Keqiang.




Reuters - Published




China vows to strengthen coronavirus controls at land borders as cases rise

China will work to further prevent coronavirus cases imported through its land borders, the Chinese government said in a statement on Monday after a meeting chaired by Premier Li Keqiang.




Reuters - Published





China will step up prevention and control of asymptomatic coronavirus cases

China will step up prevention and control of asymptomatic coronavirus cases, state media reported on Monday, quoting a meeting chaired by Premier Li Keqiang.




Reuters - Published





China says will fend off coronavirus spread via highway and waterway

China will strengthen coronavirus controls to prevent the virus from spreading via highways and waterways, state television reported Thursday, quoting a meeting chaired by Premier Li Keqiang.




Reuters - Published





China's epidemic control is showing an improving trend: state media

Control of the coronavirus epidemic in China is showing an active and improving trend, state television quoted a meeting chaired by Premier Li Keqiang as saying on Monday.




Reuters - Published




China to speed up the provision of medicines seen to be effective against coronavirus: state media

China will speed up the provision of medicines that show clinical effects against the coronavirus, state media reported on Monday, citing a meeting chaired by Chinese Premier Li Keqiang.




Reuters - Published




China will help makers of vital goods resume operations as soon as possible: state TV

China said on Sunday it will help firms that produce vital goods resume work as soon as possible, state broadcaster CCTV reported on Sunday, citing a meeting chaired by Chinese Premier Li Keqiang.




Reuters - Published




China's Premier Li asks EU to facilitate urgent procurement of medical supplies

China's Premier Li Keqiang has asked the European Union to facilitate China's urgent procurement of medical supplies from member countries, the Chinese government said on Saturday, amid the coronavirus..




Reuters - Published




China premier urges Chinese scientists to find root cause of virus

Chinese Premier Li Keqiang on Thursday urged Chinese scientists to find the root cause of the coronavirus to help develop a vaccine, state television reported.




Reuters - Published




China's Li pledges medical reinforcements as virus toll hits 81

Chinese Premier Li Keqiang will "inspect and direct" efforts to control a virus outbreak in the central city of Wuhan and promised reinforcements, as provincial authorities faced accusations from the..




Reuters - Published




China will ensure ample supplies to Wuhan's markets, ensure price stability, Premier Li says

China will ensure ample supplies to Wuhan's markets and maintain price stability, Premier Li Keqiang said on Monday during a visit to Wuhan, center of a coronavirus outbreak that has killed 80 people..




Reuters - Published




Chinese premier visits virus epicenter as death toll hits 80

Chinese Premier Li Keqiang on Monday visited Wuhan, the epicenter of an outbreak of a new coronavirus that has killed 80 and infected more than 2,700 people, as Beijing sought to signal how seriously..




Reuters - Published




Chinese Premier Li visits Wuhan, epicenter of virus outbreak

Chinese Premier Li Keqiang on Monday visited Wuhan, epicenter of the coronavirus outbreak that has killed 80 and infected more than 2,700 people in the country, China's government said in a statement.




Reuters - Published




Chinese premier, Malaysian PM congratulate launch of year of tourism

BEIJING, Jan. 19 (Xinhua) -- Chinese Premier Li Keqiang and his Malaysian counterpart, Mahathir Mohamad, sent congratulatory messages respectively to the opening ceremony of 2020 China-Malaysia Year of..




WorldNews - Published





Japan's Abe tells China no improvement in ties without stability in East China Sea

Japanese Prime Minister Shinzo Abe on Wednesday told Chinese Premier Li Keqiang that there would be no true improvement in bilateral relations without stability in the East China Sea, Japan's foreign..




Reuters - Published




China, Japan, South Korea reaffirm commitment to dialogue over North Korea

China, Japan and South Korea have reaffirmed their commitment to dialogue to resolve the North Korea issue, Chinese Premier Li Keqiang said on Tuesday after a summit with South Korean President Moon..




Reuters - Published




Asia stocks drift lower as holiday lull counters trade cheer

By Stanley White TOKYO (Reuters) - Asian shares and U.S. stock futures darted in and out of losses on Tuesday, as the holiday lull offset optimism that a U.S.-China trade deal will boost exports and..




WorldNews - Published





China's premier urges resolution of Hong Kong's deep-rooted economic problems: state radio

China's Premier Li Keqiang says the Hong Kong government must speed up research and resolution of deep-rooted economic problems, according to state radio.




Reuters - Published




Chinese Premier says Hong Kong not yet out of protest 'dilemma'

Chinese Premier Li Keqiang met with Hong Kong leader Carrie Lam in Beijing on Monday, saying the Asian financial hub was not yet out of the "dilemma" facing the city's economy after months of sometimes..




Reuters - Published

Also reported by •WorldNews