Amiens
Prefecture and commune in Hauts-de-France, France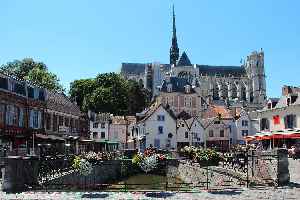 Amiens is a city and commune in northern France, 120 km (75 mi) north of Paris and 100 km (62 mi) south-west of Lille. It is the capital of the Somme department in Hauts-de-France. The city had a population of 136,105 according to the 2006 census, and one of the biggest university hospitals in France with a capacity of 1,200 beds. Amiens Cathedral, the tallest of the large, classic, Gothic churches of the 13th century and the largest in France of its kind, is a World Heritage Site. The author Jules Verne lived in Amiens from 1871 until his death in 1905, and served on the city council for 15 years.


In hometown, Macron battles disillusion and apathy ahead of EU election
In Emmanuel Macron's hometown of Amiens, it's hard to find enthusiasm for either the French president or the European Union, less than a week before European parliament elections.
Reuters - Published
Search this site and the web:
You Might Like